A defiant Workers Party registers Lula da Silva as presidential candidate
Thursday, August 16th 2018 - 10:56 UTC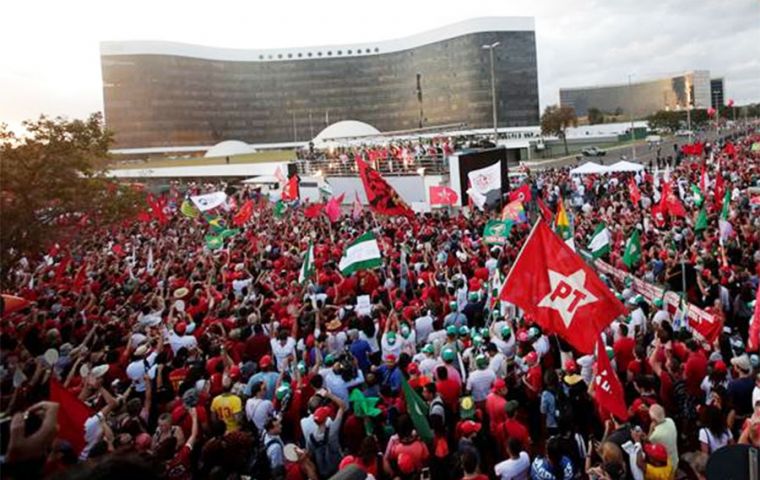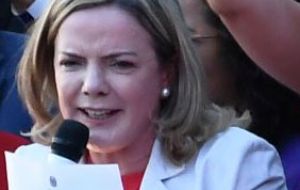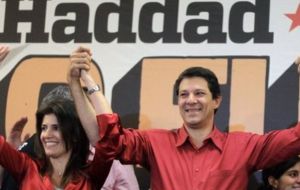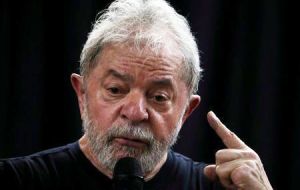 The Workers' Party registered jailed former president Luiz Inacio Lula da Silva as its candidate for president on Wednesday, attempting to muscle him into the race to lead Latin America's largest nation and forcing a showdown with Brazilian electoral authorities.
More than 10,000 of Lula supporters flooded the area around the Supreme Electoral Court in Brazil's capital, while party leaders went inside to file the candidacy on the final day for registering. Soon after, Workers' Party Chairwoman Gleisi Hoffmann emerged, proudly showing reporters the proof of registration. Former Sao Paulo Mayor Fernando Haddad was registered as the left-leaning party's vice presidential candidate.
"I will only not be a candidate if I die, give up or am ripped from the race by electoral authorities," Lula da Silva said in a message read to the crowd by Haddad. "I don't expect to die. I will not give up. And I will fight for my rights in the electoral justice system until the end."
Lula is serving a sentence for a corruption conviction, but he continues to lead polls for October's presidential election. The electoral court is expected to bar him from running because of the conviction. Lula and his supporters insist he is innocent, contending the charges were trumped up to prevent him from returning to the presidency.
Hours after the party registered, Attorney General Raquel Dodge filed a request at the electoral court seeking to bar Lula da Silva from running. Several others, including leaders of conservative groups, did the same.
Supreme Court Justice Luis Roberto Barroso will handle the case himself or share it with a full panel of the electoral court. Both Dodge and Barroso have suggested in the past that Lula da Silva's bid to run again for president would not be allowed.
The police presence was heavy around the court during the day, though the rally was peaceful. Many of the supporters wore red shirts or T-shirts with da Silva's face on them. Some more masks of his face. The crowd shouted: "Free Lula!" or "Lula, warrior of the Brazilian people!"
Brazilian law bars anyone like Lula da Silva who has had a conviction upheld from holding office, though the court has the final say.
Haddad emphasized that Lula's political rights have not yet been suspended and that he is still appealing his conviction. It is unclear how long the electoral court's decision will take, but the Workers' Party has until Sept. 17 to put someone else at the top of its ticket if Lula is barred from running.
Opinion polls show about one-third of Brazilians would vote for Lula, almost double his nearest rival, far-right lawmaker Jair Bolsonaro. However an almost similar percentage is decisively against Lula and would never vote him.
Anyhow many supporters are expected to vote for whom never replaces Lula on the Workers Party ticket. With the charismatic Lula behind bars, the Workers Party has been absent from the initial presidential debates and now that Haddad is registered as his running mate, he will begin campaigning across the country next week, party leaders have said.
Analysts said Haddad could be competitive if he attracted the Lula vote, but he could be at a serious disadvantage because the Workers Party, has waited so long to thrust him into the spotlight.
"The PT did not listen to cooler heads in the party that wanted Haddad nominated in June," said David Fleischer, politics professor emeritus at the University of Brasilia. "They are trying to use Lula's popularity and image as a martyr to the max to fortify the party."
Lula was convicted last year of trading favors with a construction company in exchange for the promise of a beachfront apartment. That conviction was part of the huge "Car Wash" corruption investigation in which prosecutors have alleged that Brazil's government was effectively co-opted for years, with politicians doling out favors and state contracts in exchange for bribes and campaign contributions. The investigation has shaken Brazil's political system and put dozens of powerful people in jail, including some of the country's richest men.