US Defense secretary pledges closer ties with Argentina; condemns China's "predatory economics"
Thursday, August 16th 2018 - 09:36 UTC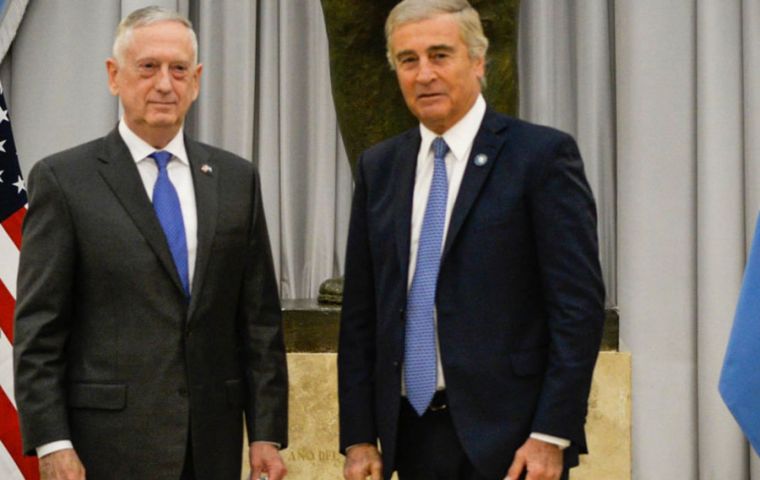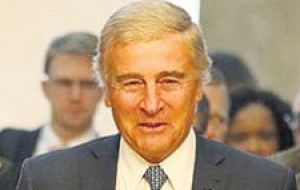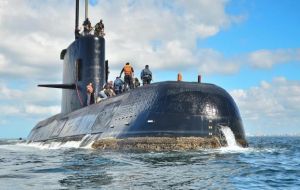 United States Defense Secretary Jim Mattis on Wednesday pledged closer defense cooperation with Argentina. Standing beside his Argentine counterpart, Oscar Aguad, Mattis said the military partnership can be strengthened and alluded to the help the U.S. Navy provided Argentina last November when one of its submarines went missing with 44 sailors aboard.
Mattis's visit is the first to Argentina by an American secretary of defense since Donald H. Rumsfeld in 2005.
Mattis and Aguad announced no specific agreements, but both said they hope for better relations between their two countries. Aguad alluded to the chilly relations of recent years, which he said were now changing for the better. He told Mattis, "We have come back to the road we should never have left."
Aguad also thanked Mattis for the help provided when the Argentine sub, ARA San Juan, disappeared in the South Atlantic last year. The U.S. Navy helped search for signs of the vessel, which remains missing.
"We thank you once more for a gesture that will never be forgotten," Aguad said.
Mattis is also visiting Chile and Colombia this week.
In related news details of Mattis conference to the Brazilian military in Rio have been made public and they caution allies against Chinese aggression, slamming what he called China's "predatory economics" and its militarization of increasingly important areas in both sea and space.
Mattis called for partnering with Brazilians to defend American assets in space, adding that steps toward building a U.S. Space Force were reactionary based on Chinese and Russian attack capabilities. He provided the example of when China used a missile to destroy one of its satellites in space in 2007.
"We understand the message China was sending, that they could take out a satellite in space," Mattis told the group. "We don't intend to militarize space. However, we will defend ourselves in space, if necessary."
U.S. satellites are used for communications, weather forecasting and GPS. They also bring in trillions of dollars of economic output, according to Paul Selva, vice chairman of the Joint Chiefs of Staff.
China has shown growing interest in boosting Latin American space efforts, even financing and operating a space center in Argentina.
American space firms are enthusiastic about the possibility of launching satellites out of Brazil's new space center in the city of Alcantara, on the country's northern Atlantic coast.
Mattis also criticized China's placement of weapons and other defense assets in the disputed South China Sea, home to one of the world's most important trade routes.
"China is shredding the trust of the nations in the area by its muscular militarization," Mattis said.
Earlier this year, the defense secretary disinvited China from biennial Rim of the Pacific (RIMPAC) naval exercises involving more than 20 countries. He said he came to that decision after China acted contrary to what their president had publicly promised by moving weapons into the Spratly islands.
"There is no need for militarization of those islands," he said. "China benefited in its economic rise from the freedom of navigation that all nations large and small enjoy, so we want to return it to that status."
Mattis cautioned against Chinese deals in the Americas, citing last December when Sri Lanka had to handover a port to Beijing for 99 years, after failing to make its payments on loans from China.
"The respect for each other comes first," Mattis said. "You can't use predatory economics and pile massive debt on a country and then remove its sovereignty over its port like in Sri Lanka."