Argentina struggling to tame markets and inflation; talks for a currency swap with China
Friday, August 17th 2018 - 08:58 UTC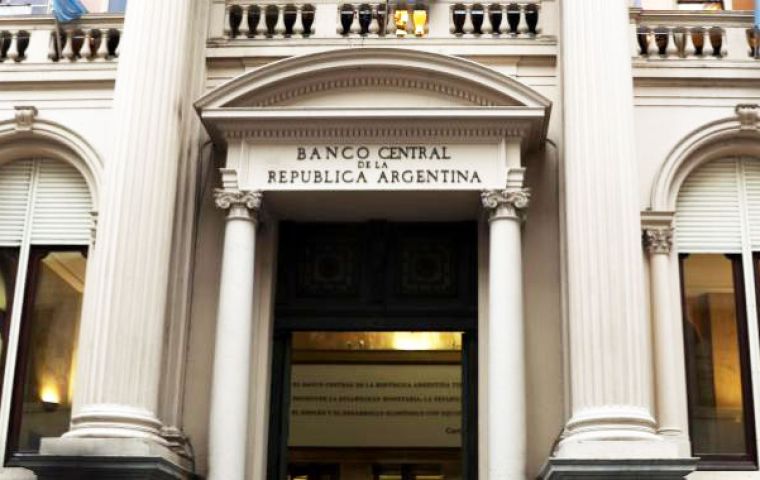 Argentina's central bank said on Thursday it hiked reserve requirements by 3 percentage points for the country's largest banks, as it tries to keep its plan for reducing short-term debt from adding to already high inflation.
Separately, the central bank has agreed to a US$ 4 billion currency swap with China to boost its reserves, local news website Infobae reported. A spokeswoman for the central bank said talks with China over the swap were "advanced".
The monetary authority also sold on Thursday US$ 55 million in reserves at an average price of 29.7224 pesos per U.S. dollar, out of a total US$ 500 million offered in its only foreign exchange auction of the day. The peso closed 0.67% higher at 29.8 per U.S. dollar.
Argentina is undergoing a new bout of currency volatility, driven by concerns about inflation and a currency crisis in Turkey that has led to a sell-off in emerging market assets. A run on the peso earlier this year prompted the government to turn to the International Monetary Fund (IMF).
Under the new central bank requirements, the largest banks must now keep 31% of their peso deposits in reserves, up from 28%, according to a central bank spokesman. The move will absorb about 60 billion Pesos (US$ 2.01 billion) in liquidity from the market, according to the statement.
Earlier this week, the central bank announced it would speed up a plan to reduce outstanding Lebac short-term debt. It later lowered the interest rate offered on short-term notes to 45.04% in a Tuesday auction, when it sold 201.7 billion pesos in Lebacs.
The move to unwind the short-term debt was praised by the IMF, which said it would reduce a source of instability. But traders and economists warned it would increase the supply of pesos as investors turned their Lebac notes into cash, pressuring both the currency and the current inflation rate of 31.2%.
The central bank sold US$ 781 million in reserves on Wednesday after the peso hit a record low of 30.50 per U.S. dollar. Earlier in the week the bank also hiked its benchmark policy rate to 45% from 40%.