Temer endorsing two candidates for October's presidential election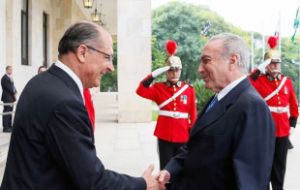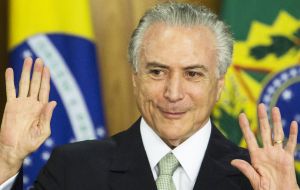 Brazilian President Michel Temer is endorsing another party's candidate as well as his own in October's presidential election. On the day the campaign took off, Temer said in an interview published on Thursday by the Folha de S.Paulo newspaper that he sees former Sao Paulo Gov. Geraldo Alckmin of the Brazilian Social Democracy Party as a candidate who would carry on with his work.
Temer's own centrist Brazilian Democratic Movement has nominated former Finance Minister Henrique Meirelles, who has appeared to be trying to distance himself from the unpopular president.
Several of the parties that support Temer in Congress have joined Alckmin's bid for the election. "If you said: 'Who does the administration endorse?' It seems it is Geraldo Alckmin, doesn't it? The (Temer) administration's political base, including his party, is with him," he said.
Asked whether an Alckmin victory would mean the continuation of his administration, Temer replied: "That can be true. Firstly for what I hear him say. Secondly because those that helped us make reforms will be in the Cabinet if he wins."
It's not clear either candidate would welcome Temer's endorsement. A Datafolha poll in June found that 82% of Brazilians believed their president was doing a poor job, the highest figure since the institute began asking the question in 1989.
"I will be cautious not to campaign for either (Alckmin or Meirelles),'' said Temer, who took office in 2016 after Dilma Rousseff was impeached.
Both of the candidates themselves are also running far behind in the polls so far. The leader is jailed former president Lula da Silva, who is likely going to be barred from running.
Also on Thursday, another prominent presidential candidate filed a request for Brazil's top electoral court to bar Lula da Silva's bid. Conservative congressman Jair Bolsonaro, who polls second, made the move after the Workers' Party registered the former president's run on Wednesday.
Brazil's Attorney General Raquel Dogde made the same request hours after Lula da Silva's ticket was registered at the court. Thursday marks the first official day of campaigning for all 13 presidential candidates.