Tribal chief of the "Guardians of the Amazon" murdered by illegal loggers in Brazil
Friday, August 17th 2018 - 09:25 UTC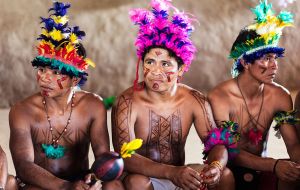 An indigenous leader has been found murdered in Brazil, exposing the growing threat to tribes fighting illegal logging in the Amazon, campaigners and authorities said. Jorginho Guajajara was found dead in the northern state of Maranhao with his neck broken, rights group Survival International said. Police in Maranhao confirmed on Thursday they were investigating the case.
He was a leader of the Guajajara people, who call themselves the Guardians of the Amazon and have faced repeated threats from a powerful logging mafia operating on their territory.
"This is just one of many murders in Maranhao... due to the indigenous people's work to protect their land against loggers," said Sonia Guajajara, an indigenous leader who is standing to be Brazil's next vice president.
"Our people can no longer afford to stand by while the government does nothing, and they are paying for that with their lives" she said.
South America's largest country is grappling with scores of deadly land conflicts, illustrating the tensions between preserving indigenous culture and economic development. Up to 80 members of the Guajajara tribe have been killed since 2000, according to rights groups estimates.
Brazil's indigenous affairs agency, Funai, said in a statement it was aware of the murder and was cooperating with police.
The Arariboia territory where the Guajajara live is also home to the Awa Indians, hunter-gatherers Survival International has described as the most threatened tribe in the world because they have nowhere to go if their forest is cut down.
Brazil's government has struggled to protect the vast territory amid budget cuts and increasing political pressure to open up indigenous reserves to mining, the group said.
That has led the Guardians of the Amazon to take matters into their own hands. In May, Brazil sent in armed back-up from the environmental protection agency Ibama after the group captured a logging gang and burned their truck.
"What is really needed is proper enforcement on the ground that is continuous," said Fiona Watson, research director at Survival International. "Ibama may go in from time to time, but that's not the solution."