The 97th Argentine combatant buried in the Falklands has been identified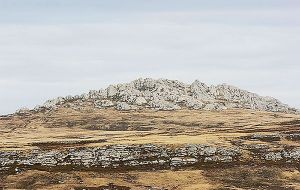 The 97th Argentine combatant, whose remains are buried as an unknown soldier at the Argentine military cemetery, Falkland Islands, has been identified, according to the official announcement, on Friday, from the Argentine Human Rights Secretariat.
Victor Hugo Juarez an Infantry non commissioned officer lost his life during the battle of Mount Tumbledown, which was the last strategic resistance outpost of the retreating Argentine forces trying to defend Stanley.
Apparently Juarez died sometime between the night of June 13th and early June 14th, which was the day when the Argentine forces surrendered to the British Task Force sent to recover the Falklands. He belonged to the Fifth Infantry Battalion.
Another member of the battalion, infantry soldier Ricardo Ramírez, who also went down during the Mount Tumbledown battle was among the ninety combatants originally identified by the Red Cross operation,
The identification of Juarez was possible because his two brothers agreed to blood samples to check DNAs. They volunteered after seeing the next of kin visit to the Argentine military cemetery in the Falklands last 26 March.
Of the 121 unidentified graves at the military cemetery, 97 now have full names.
A delegation from the Human Rights Secretariat has flown to Tierra del Fuego to notify the family of the identification, said the release.
"I feel deeply moved each time we can give such news to those who have waited too long for this moment. For us it makes us extremely proud and is a further boost to continue working in this historic cause for the Argentines", concluded the message from Claudio Avruj, Human Rights Secretary.