Brazilian election increasingly polarized: Lula's support increases and so does far right Bolsonaro
Tuesday, August 21st 2018 - 08:10 UTC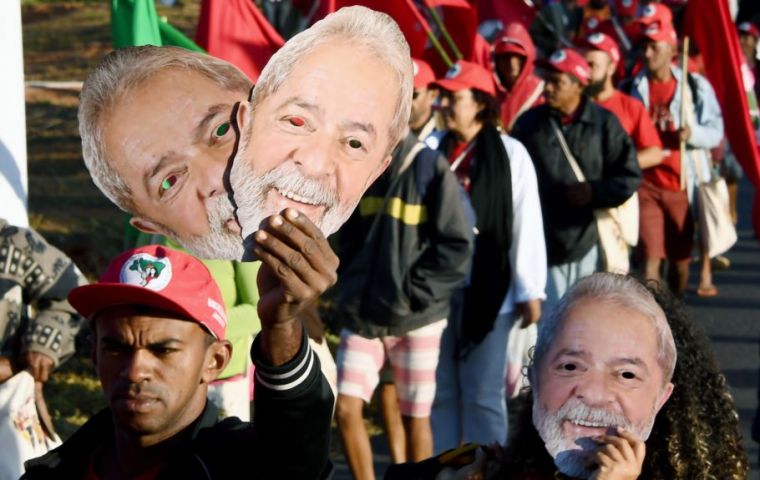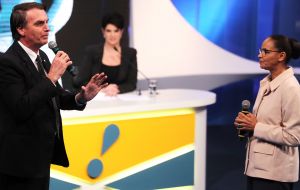 Jailed former president Lula da Silva has increased his support by five percentage points and would win Brazil's October presidential election if he was allowed to run, a poll by CNT/MDA showed on Monday. The survey, which was last taken in May, found that almost half of the leftist leader's supporters would transfer their votes to his running mate Fernando Haddad if Lula is disqualified from Brazil's most uncertain race in decades.
Electoral authorities are expected to ban Lula from the election due to a corruption conviction. Despite that, he took 37.3% of voter intentions in the latest poll, up from 32.4% in the same poll in May.
His nearest rival was far-right candidate Jair Bolsonaro with 18.3%, followed by environmentalist Marina Silva with 5.6% and business-friendly Geraldo Alckmin with 4.9%.
Support for Marina Silva and center-left candidate Ciro Gomes has slipped since the May poll, while support increased for Bolsonaro. Alckmin, a former governor of Sao Paulo state, has also gained ground marginally.
It was the first major poll since candidacies were officially registered last week, but it did not provide results for the likely scenario of a race without Lula.
Lula's supporters were asked who they would back if he is out of the race and 17.3% of the people surveyed said they would cast their vote for Haddad, a former Sao Paulo mayor who would head the Workers Party ticket. Another 11.9% of the voters surveyed would migrate to Marina Silva, 9.6% to Gomes, 6.2% to Bolsonaro and 3.7%to Alckmin.
Lula, Brazil's first working class president and whose social policies lifted millions from poverty in Latin America's largest nation, was jailed in April to start serving a 12-year sentence for receiving bribes.
The nationwide survey of 2,002 people was carried out by pollster MDA for the transportation sector lobby CNT between Aug. 15-18 and has a margin of error of 2.2 percentage points.