Venezuelan refugees restarted pouring into northern Brazil
Tuesday, August 21st 2018 - 08:05 UTC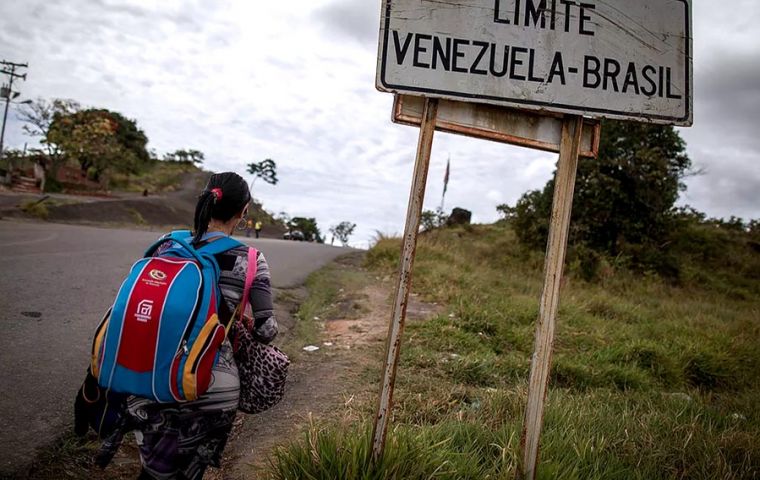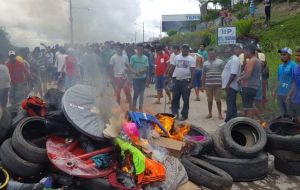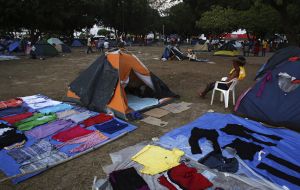 Brazil's government has not ruled out closing its border with Venezuela at Pacaraima, in Roraima state, but sees obstacles to doing so because of international treaties it has signed, Political Affairs Minister Carlos Marun said on Monday.
The minister said the government would not make a decision before further evaluating the situation in Pacaraima, where violence erupted over the weekend between a mob of Brazilians and refuges from Venezuela. Brazil's federal government has repeatedly said it would not consider closing the border on humanitarian grounds, despite demands from the border state's government, one of the poorest of the country.
Fearful Venezuelan immigrants lined up in smaller numbers to enter Brazil on Sunday and Monday at the only border crossing between the two countries one day after violent protests by Brazilian residents drove hundreds back across the frontier. The Brazilian army, which reinforces security at the Pacaraima border post, said 1,200 Venezuelans, including women and children, fled back into Venezuelan on Saturday when residents went on a rampage after the stabbing and beating of a local shop owner.
The angry demonstrators destroyed tents used by Venezuelans to camp out in the street near the bus station and set fire to belongings the immigrants left behind.
The outburst was triggered by the severe beating of a shop owner by four alleged Venezuelan immigrants on Friday, the Roraima state government said. But police declined to comment and had still not found the suspects on Sunday.
Tens of thousands of Venezuelans have poured over the border into Roraima state over the last few years, fleeing economic and political turmoil in their country.
The influx has overwhelmed the state's social services and brought a rise in crime, prostitution and disease, (measles) and has sparked incidents of xenophobia, Brazilian government officials say.
"About 1,200 Venezuelans went back to their country over the weekend. The flow has restarted today but evidently there are less people coming," Colonel Hilel Zanatta, commander of the army operation at the border post said.
A photographer who crossed into Venezuela on Sunday morning to the border town of Santa Helena de Uairen said the streets were crowded with thousands of people seeking to leave the country but fearful of a hostile reception in Brazil.
Venezuela's government said the attacks on its citizens were fuelled by xenophobia and called on Brazil to protect the immigrants and their belongings.
The Brazilian border state of Roraima repeated a call to close the border, which the federal government has refused to do for humanitarian reasons.