Venezuelan businesses shut down shops to protest last monetary measures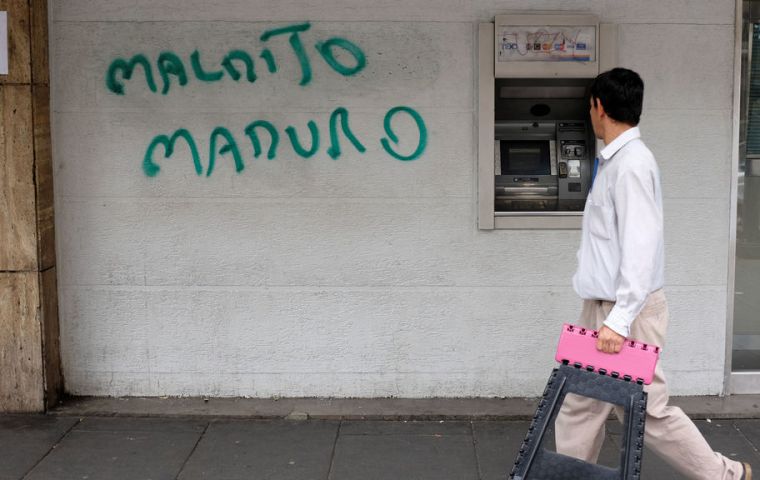 Venezuela's streets were quieter than normal on Tuesday, as a currency devaluation and package of economic measures by populist president Nicolas Maduro went into effect, and the opposition asked storekeepers to shut up shop in protest. Venezuela on Monday cut five zeros from prices and pegged the country's currency to an obscure state-backed cryptocurrency, as part of a broad set of measures meant to address hyperinflation and an economic crisis.
The central bank reported a new exchange rate of 68 bolivars per euro, in line with the 60-bolivar-per-dollar rate that Maduro implied when he announced the new measures on Friday.
That would represent a devaluation of 96% from the previous official rate. But the impact of that is limited by the fact that most individuals and businesses were already relying on the black market for hard currency, where dollars currently fetch around 93 bolivars.
Critics slammed the plan as inadequate in the face of inflation that topped 82,000% in July and called for a one-day halt of commercial activities. Many shops closed in downtown Caracas, and opposition politician Andres Velasquez estimated that 60% of the population had joined the national strike.
In those stores that opened, items that cost 1,000,000 bolivars last week were remarked with price tags of 10 bolivars.
"All of us have lost (with these measures), and we are falling into an abyss," Velasquez said at a news conference. "If we don't stand firm against the regime, we're going to have this regime forever, which is their plan."
However a small group of government supporters marched toward the presidential palace in downtown Caracas to support Maduro's economic measures.
Fedecamaras, the country's main business group, slammed Maduro's economic package as incoherent, and said that a significant minimum wage increase that is part of the plan would make it impossible for businesses to keep their doors open.
At major produce market Quinta Crespo, some stands were closed. Some employees were unable to get to work because they could not find public transportation, which has been in steady decline for months due to lack of auto parts.
Businesses were largely closed in the second-largest city, Maracaibo, which has suffered months of prolonged power outages, as well as in the smaller cities of Punto Fijo and Valencia. Banks had long lines outside as people sought to withdraw the newly released bills.