Argentina rolling over short term debt into longer duration Treasury notes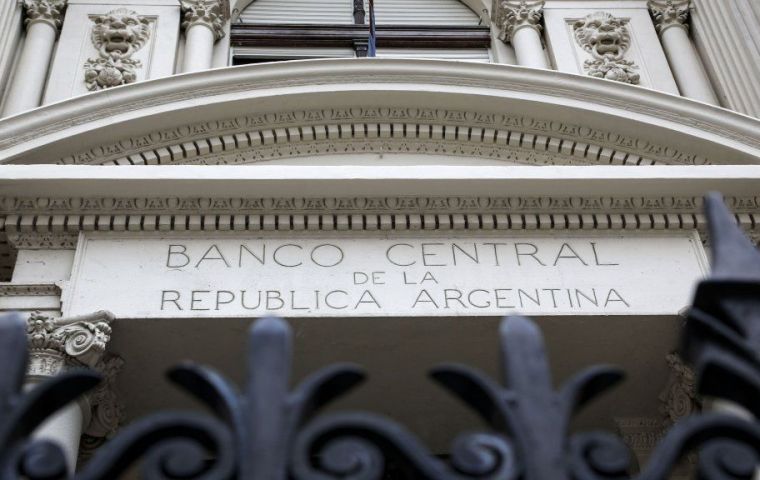 Argentina sold US$2.1 billion in three and six-month treasury notes, the Treasury Ministry said on Wednesday, as it seeks to direct investors away from shorter-term central bank debt and into longer duration instruments. The amount sold represented more than double the US$ 1 billion in dollar-denominated treasury notes that mature on Friday.
The central bank announced last week that it would speed up plans to unwind its outstanding stock of short-term central bank notes known as Lebacs, which have durations of as little as 35 days.
That move was praised by the International Monetary Fund (IMF), which earlier this year inked a US$ 50 billion financing deal with Argentina after a run on the peso currency, since the Lebacs' monthly maturities often generate market volatility.
But the plan is risky in its own right. The peso could fall further if investors who previously held Lebacs buy dollar-denominated assets, which could accelerate inflation. The peso has lost more than 35% against the U.S. dollar this year, while inflation is running at an annualized rate of 31.2%.
"Unwinding the stock of Lebacs opens space for new instruments," said a Treasury Ministry official. "Treasury notes in pesos are starting to fill part of that space."
The official said that if the government manages to roll over 40% of the treasury notes maturing this year, that would meet all its financing needs for the rest of 2018. If it rolls over all the maturing notes, the government would be financed through the end of March 2019, the official said.
Wednesday's auction was split between US$ 913 million in dollar-denominated notes and 36.4 billion pesos (US$ 1.2 billion) in peso-denominated notes. That included 25.9 billion pesos in 98-day notes at a nominal annual interest rate of 42.14%, 10.6 billion pesos in 217-day notes at a nominal annual interest rate of 39.74%, and $913 million in 203-day dollar notes at a nominal annual interest rate of 5.25%.