Falklands promoted the Islands and eco-tourism at Birdfair in England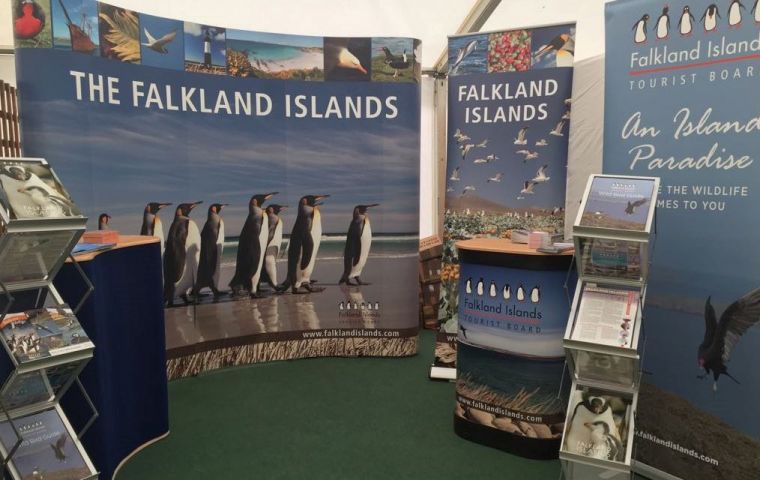 Falkland Islands Holidays, along with Falklands Conservation and the Falkland Islands Tourist Board were in attendance at the British Bird Watching Fair (Birdfair) August 17-19 held at Rutland Water in England.
Over the three day event there were three lectures about the Falklands. Margaret Carr gave a lecture on modernising penguin monitoring in the Falklands, during which she discussed Falklands Conservation's use of modern drone technology monitoring penguin populations, the trials, tribulations, latest results and how the charity's work helps penguins.
Martin Beaton gave a lecture entitled Weddell Islands - Real Life, Bird Life and Wildlife and Tim Melling spoke about 'Penguins, Prions and Petrels - Wildlife Cruising around the Falklands, South Georgia and Antarctica.
Falkland Islands Holidays told Penguin News their stand incorporated a multimedia display with footage from FITV which drew the attention of many visitors.
This year they focused upon sustainability and were the only stand offering chilled water with branded reusable roll up water bottles along with the best non plastic and biodegradable cups available currently on the market.
They also had travel coffee cups made from rice husk, advertising both the Malvina House Hotel and Falkland Islands Holidays which were exceptionally popular with visitors explained an FIH representative.
"They were so popular that we ran out of reusable water bottles, we had families returning to the stand to refill their bottles, stating it was the first time that their children had been enthusiastic about drinking water."
On the Friday and Saturday FIH had a Falkland Beerworks and Malvina House Gin tasting. Visitors also had the opportunity to taste Rock Hopper, Cape Pembroke, Iron Lady and Peat Cutter beers.
On Sunday on the FITB stand Martin and Jane Beaton offered their famous home baked smoko and Falklands Fizz Cocktail, which included Diddle Dee Jam and Teaberry infused Vodka.
FIH, FITB and FC contributed to a hamper of Falkland Islands goodies to the auction and raised £80 funds for conservation. FITV, FC and FITB also provided promotional footage of the Islands for a large screen that was located in the main refreshment area in the centre of Birdfair, showing footage of the Islands and enticing people to visit the Falkland Islands stands.
Manager of Falkland Islands Holidays Margaret Williams said: "Birdfair 2018 has been outstandingly successful for the Falkland Islands as a whole and we are privileged to be a part of the philosophy of Birdfair itself - sustainable ecotourism.
"Falkland Islands Holidays work alongside Falklands Conservation and the Tourist Board and having the ability to attend Birdfair annually and educate visitors to our collective stands is invaluable.
Moreover, visitors to Birdfair are precisely the type of tourist we would wish to invite to the Falklands - birders, photographers and walkers with an inherent respect for the natural environment.
"It was wonderful to catch up with former clients as well as with those who were persuaded to visit the islands at last year's Birdfair, have since booked and are due to travel to the Islands soon. Given the substantive increase in enquiries.
post Birdfair there is no doubt that the event is exceptionally benefi cial for the islands both in terms of tourism and with regard to positive messaging overall." (PN).