Files on Judges and political enemies found at Cristina Fernandez house in El Calafate
Monday, August 27th 2018 - 08:31 UTC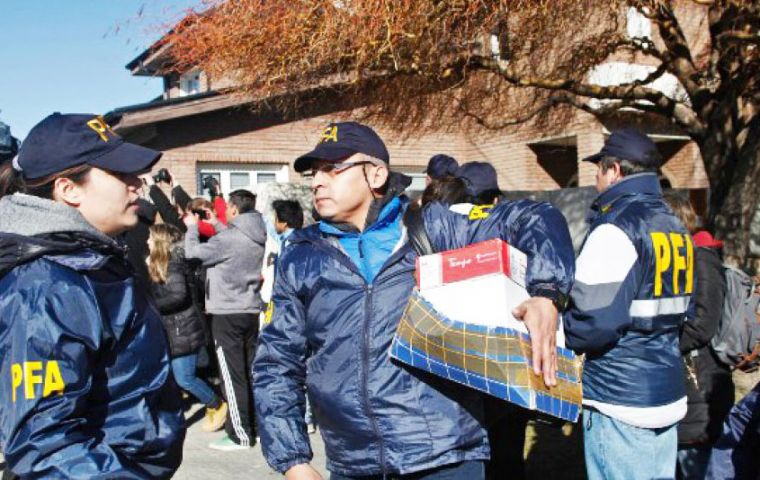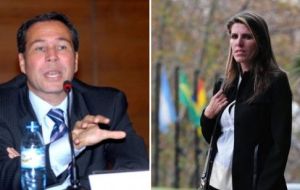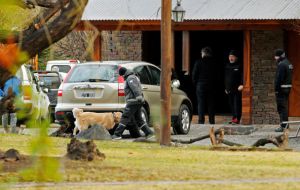 A third day of search at ex president Cristina Fernandez' property in the Patagonian resort of El Calafate did not seem to deliver much in terms of money or valuables, despite a thorough inspection of the house, as part of the of a major corruption case involving Argentina's business elite and ex government officials.
But according to the Argentine media there were surprises that can help Judge Claudio Bonadio with the case, and plenty of boxes were loaded in police vans. Bonadio also ordered the seizure of a 4x4 van parked in the residence's garage which is normally driven by Cristina Fernandez when visiting El Calafate.
The residence in the exclusive resort was combed this Sunday for the third day running and according to the Argentine media abundant documentation and intelligence files on Cristina Fernandez political and judicial "enemies" were discovered in what apparently were two well disguised vaults.
The vaults allegedly were detected with scanning equipment which surveyed walls, ceilings and the ground floor. Sniffer dogs specially trained to detect drugs and/or money were let lose in the back garden, but if there was ever money or valuables it seems hard to confirm, according to the Argentine media reports.
Among the documents and intelligence reports found were files precisely on Judge Bonadio, Judge Sandra Arroyo de Nisman, the ex wife of prosecutor Alberto Nisman who was found mysteriously shot in the head, in his flat, a couple of days before he was to attend Congress to claim Cristina Fernandez was part of a cover-up operation involving the bombing of a Jewish organization in Buenos Aires.
In the famous 1994 AMIA bombing allegedly masterminded by Iran and Hezbollah some eighty people were killed and dozens more seriously injured. It was Nisman as a special prosecutor who was investigating the AMIA case.
Apparently there were also files on other political adversaries of the Kirchner couple, Nestor and Cristina, plus intelligence records on tapped phone calls.
The ex president two other residences, in Buenos Aires and in Rio Gallegos were also searched earlier in the week but so far not much is known regarding what was actually found or what was seized from those places.
Cristina Fernandez and her deceased husband, Nestor Kirchner, are accused of conducting an illicit association to collect bribes from public works' contractors allegedly to finance political campaigns during the twelve years that the couple ruled Argentina, from 2003/15. The plot came to light when La Nacion published the so called "K corruption notebooks". Meticulous records from one of the Planning Ministry drivers that was involved in the collection of sacks of cash that were delivered to the private home of the Kirchners in Buenos Aires or at the presidential palace and/or residence. The Planning Ministry was responsible for awarding the public works contracts.
Since the investigation was started on 2 August more than fifty business leaders and former government officials have been questioned with fifteen remaining in preventive arrest while others entered a plea bargain with the court as "repentant", and are free, while a few are protected witnesses. Most companies are Argentine, but there are also a Spanish and an Argentine-Italian consortiums involved.