US has offered to collaborate with the Argentine investigation of "K corruption notebooks"
Tuesday, August 28th 2018 - 07:14 UTC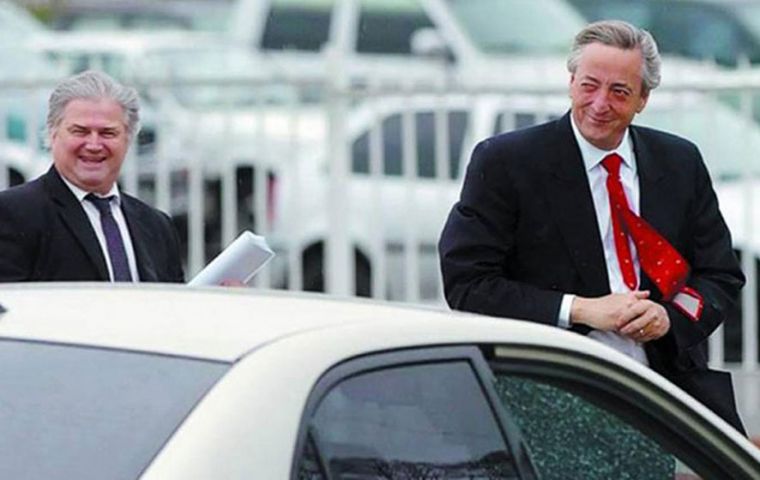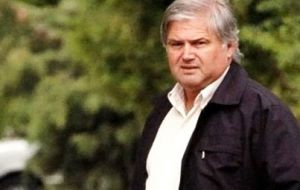 According to Buenos Aires daily Clarin, United States authorities have offered to collaborate with Argentine President Mauricio Macri's government in the ongoing "K notebook scandal" by providing confidential information on a number of US bank accounts used to hold alleged Kirchner bribe money.
The offer was confirmed to Clarin by government officials, and includes details of bank accounts of ex personal secretary of former president (2003/2007) Néstor Kirchner, Daniel Muñoz. Information will also be provided on a number of other bank accounts, which have not yet been revealed.
Muñoz is named several times in the so called "K corruption notebooks" written by ministerial driver Oscar Centeno. In the detailed registers, he describes driving trusted officials of the presidential couple with sacks full of bribe money to the presidential residence of Olivos, Government House and the Kirchner's personal home in Recoleta, as well as conducting a number of financial operations for the couple.
The information provided by the US could prove to be crucial in the ongoing investigation. However, as of now, the specifics of the offer are still being worked out, and nothing has been officially agreed upon.
"For now, it's just a conversation that is ongoing," a government source specified.
Last Friday, Clarin's columnist Marcelo Bonelli reported that information circulating among international bankers was that the Trump administration "is willing to collaborate with Argentina by providing confidential information about the bank accounts used to hide the Kirchner bribes."
The key to US aid in the ongoing notebook scandal—an investigation that many political analysts have positioned as the greatest corruption scandal in Argentina's history—is that the White House can access financial secrets that Argentine investigators have no way of obtaining. In fact, according to sources from the international banking system, Washington has reportedly already collected a significant amount of information on bank accounts that are connected to alleged Kirchner bribe money.
In a recent interview with Clarin, Mariano Federici, the head of Argentina's Financial Information Unit (UIF), made it clear that the massive amount of bribe money allegedly collected by the Kirchner camp in exchange for political favors and awarding public works contracts was not kept in Argentina. Instead, the illicit funds exited the country almost immediately "through offshore shell companies and tax havens," many of which were in the United States. According to Federici, a number of these havens used to hide bribe money have already been identified.
After a detailed investigation, the UIF gave the Argentine Justice a layout of all the bank accounts that they believe are tied to the scandal, including those of the now deceased former personal secretary of Néstor and Cristina Kirchner. However these are now being claimed by his widow, Carolina Pochetti.
According to Federici, Muñoz created thirteen separate shell companies in Miami and in the state of Delaware throughout the Kirchner administrations, which functioned as tax havens within the US. Muñoz did so both directly, as well as through the use of third parties.
The objective of the anti-laundering agency is thus to ask the US, through the courts, to seize those assets before they are claimed by Pochetti, as part of the ongoing investigation and with the intention of recovering them for the Argentine State.
Federici gave the financial information and network to federal judge Luis Rodriguez several weeks ago. Rodriguez has, for several years, been conducting an investigation on Muñoz on the charges of corruption and illicit enrichment. Rodriguez has been collaborating extensively with Claudio Bonadio in the ongoing scandal, and recently shared the UIF's reports with the federal judge.
Judge Rodriguez made an official request to the US judicial branch to provide their Argentine counterparts with confidential information on all thirteen companies in Miami and Delaware, held under the names of Muñoz, as well as his allies and business partners Sergio Todisco and María Ortiz Municoy.
The companies are: Ocean Silver Inc., Ocean Silver Of South Florida Inc., Municoy International Properties Inc., Harbon Golden Inc., North Golden Inc., Free Experience Inc., Drean Limited, Golden Enterprises Inc., Mother Queen Inc., Successful Ideas Inc., First Alla Inclusive Inc., South Golden Inc., and Ocean Golden Inc. All of the companies either own residential buildings or shopping centers in South Miami.