Brazilian currency down on presidential election forecast jitters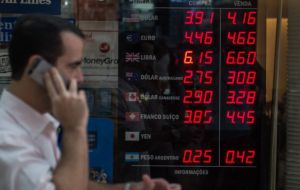 The Brazilian Real led losses in Latin America as lingering concerns over presidential elections overshadowed a largely positive environment for emerging market assets. The US dollar ended trading at 4.333 Reales.
Investors have been increasingly fearful that the winner of October's election may not commit to an unpopular agenda of deficit-cutting and privatizations that they see as critical to bringing back Brazil's investment grade sovereign rating.
The Brazilian real weakened 1.3%, by far the biggest decliner in the region and 19% so far this year.
MSCI's emerging market index rose 1.8%, reflecting a pick-up in appetite for risky assets after the United States and Mexico reached a trade deal that could replace the North American Free Trade Agreements.
Canada's top trade negotiator joined her Mexican and U.S. counterparts in Washington on Tuesday in a bid to remain part of a trilateral North American trade pact, as U.S. officials expressed optimism a deal could be reached this week.
Thorny negotiations around NAFTA, which have dragged on for much longer than originally envisioned, have weighed on demand for emerging-market assets throughout the year.
Brazil's key stock index, Bovespa was down 0.88% on Tuesday, as losses in the consumption, real estate and financial led shares lower.