Falklands: Referendum on Single Constituency on Thursday 7 November 2019
Wednesday, August 29th 2018 - 07:19 UTC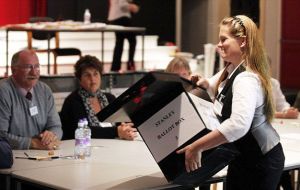 The Falkland Islands Government has announced that on Thursday 7 November 2019, it will hold a referendum asking people whether they want a single constituency for the whole of the Islands.
This date has been agreed in order to allow sufficient time for necessary Government preparations, both in terms of the logistics required to run a referendum and for amendments to be made to the Electoral Ordinance and the Constitution – prior to the next General Election – should the outcome of the referendum show that the public desire this change.
Currently the Falkland Islands is divided into two constituencies: Stanley and Camp. These were established by Section 27 of the Constitution and it is within the gift of the Government to amend the Constitution with respect to constituency divisions and boundaries, without requiring bilateral discussions with the UK.
The referendum will only seek to engage with the public on the matter of a single constituency and not on any other potential changes to the electoral system. Voters will be able to participate at the ballot box or by postal vote.
Further information will be able closer to the time of the referendum.