Falklands approves application to register a new build trawler
Thursday, August 30th 2018 - 07:24 UTC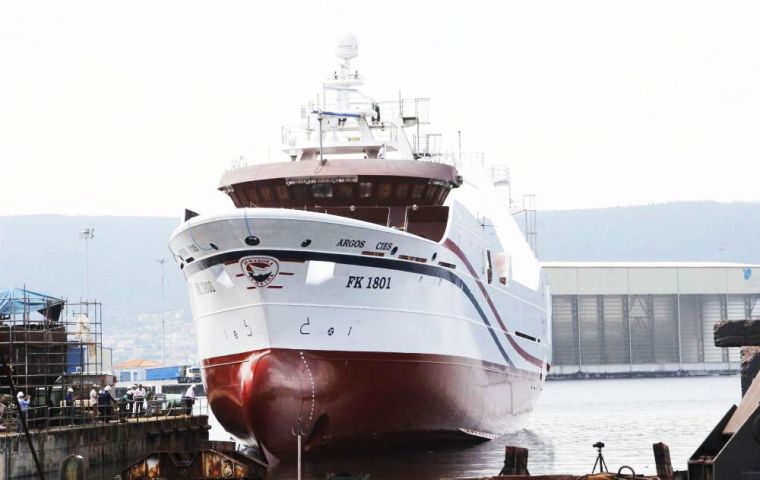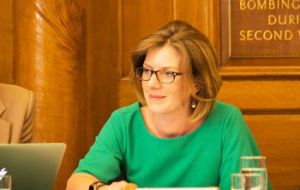 The Falkland Islands Executive Council on Wednesday granted the application by Jupiter Fishing Company to register a new build fishing trawler. The agreed name of the new vessel is Argos Cies, which reflects the 50:50 partnership in Jupiter between Argos Group Ltd of Stanley, Falkland Islands and Armadora Pereira SA of Vigo, Spain.
The Cies Islands are an archipelago which protects the entrance to the Bay of Vigo in Galicia, Spain.
The vessel will be 75 metres long, have a Gross Registered Tonnage of 1,998 tonnes and will carry up to 50 crew members. Argos Cies is in the process of being built at the Nodosa shipyard in Marin, Galicia at a cost of €21 million.
Portfolio holder for Natural Resources, MLA Teslyn Barkman said: "I'm delighted that ExCo has approved this application as it reflects the success of the Falkland Islands' growing fishing industry. This is a positive step towards ensuring that this industry remains sustainable and is a perfect example of a local company investing in their future and in the future of the fishing trade. I look forward to seeing the vessel in Falkland Islands waters once she has been launched."
Director of Argos Group Ltd, Shelia Stewart said: "We are really looking forward to the launch of our new vessel, which is a significant joint investment in the future of the fishery. The name Argos Cies reinforces the connection between the Falkland Islands and Spain – one of the biggest importers of Falklands' fish. Jupiter Fishing Company is a well-established Falkland Islands joint venture company and Argos has been involved in fishing around the Falkland Islands since 1988."
"With the number of new technical innovations that will be included in the ship's design we aim to have one of the most modern vessels in terms of crew safety and a reduced environmental impact. We are looking forward to the completion of the vessel and welcoming her into our existing fleet."