Chinese buyers leave the US soy exporters conference empty handed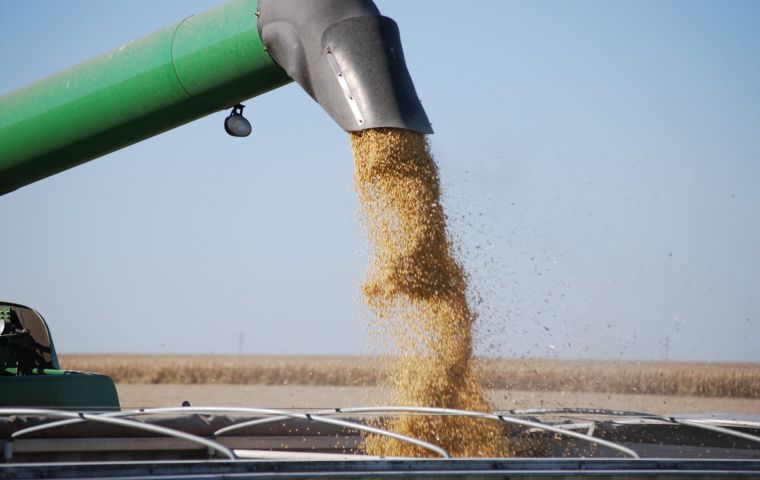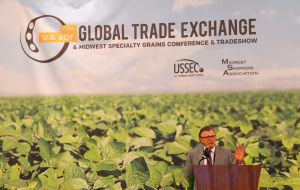 An annual U.S. soy exporters' conference wrapped up on Wednesday without any known sales to Chinese buyers, in sharp contrast to previous years when billions of dollars of the main U.S. cash crop have been signed over to China in elaborate ceremonies.
The U.S.-China trade dispute has effectively halted bilateral trade of soybeans and U.S. farmers are concerned that soy export demand will fall short during their primary shipping season this autumn, when they expect to harvest a record-large crop.
Delegations from other countries including Mexico inked deals for U.S. soybeans, but volumes were smaller than past deals to China.
A delegation of Chinese soybean importers did attend the U.S. Soybean Export Council's (USSEC) annual Global Trade Exchange conference in Kansas City, however. They toured a Missouri farm, climbing aboard a John Deere combine before loading into a bus to eye nearly ripe soy plants.
The delegation, which includes many of China's top soybean processors including COFCO and Yihai Kerry, as well as Chinese representatives of U.S. companies Cargill Inc and Bunge Ltd, met with U.S. farmers, industry representatives and traders.
Top importer China bought more than US$12 billion in U.S. soybeans last year, about 60% of U.S. soybean exports, but has been mostly out of the market since Beijing imposed a 25% tariff on all U.S. shipments on July 6 in retaliation for U.S. tariffs on Chinese goods.
Soybeans are the greatest agricultural casualty so far of the dispute between the world's two largest economies.
Mu Yan Kui, COO of Yihai Kerry, said China's 2018/19 season soybean imports from all origins could tumble to 86 million tons, from 96 million in the current season, if the trade war persists. Hog and poultry feeders can drastically cut their demand for U.S. soy by tapping government stocks, scaling back soymeal use in rations and using alternative feeds like sunflower or rapeseed meal.
"If the trade conflict cannot be solved quickly and effectively, it will definitely reshape the global market," he told conference attendees.
Still, U.S. exporters said they were not willing to walk away from hard-won business, after investing between US$120 million and US$130 million in Chinese market development over the past 36 years.
"We made a conscious decision not to suspend our programs in China so we are continuing to operate our promotional and educational programs there. Part of that is bringing a delegation here," Jim Sutter, USSEC's chief executive officer, said in an interview at the Missouri farm on Tuesday.
U.S. soybean prices have tumbled about 18% over the past three months as the threat of tariffs shifted Chinese buyers to book soybeans almost exclusively from Brazil, the top exporter of the oilseed.
The industries in the United States and China have hosted purchase-agreement signing events up to three times a year in recent years, but have not done so since a ceremony last November in Beijing, said Xiaoping Zhang, USSEC's director for China.
An event in July 2017 in the United States resulted in 12.5 million tons in purchase agreements, the second-largest one-off deal for U.S. soybeans ever.
Members of the Chinese delegation said though business was complicated by the tariffs, they had exchanged market views with their U.S. counterparts.