Mercosur expecting a "move" from the EU at this month's negotiations in Montevideo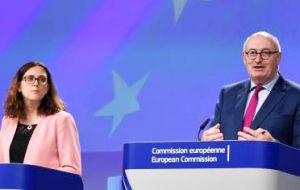 Brazil's Foreign Minister Aloysio Nunes said he expects more "movement" from the European Union as long running talks on a free trade deal with his South American bloc Mercosur head into the home stretch.
"We expect a little more, some movement beyond what the European Union has offered up to now, especially in the agricultural goods sector, market access," Nunes said in an interview ahead of a new round of talks in Montevideo this month at which both sides are hoping to finally push the talks -- which have been going on for almost 20 years -- over the line.
With an historic agreement edging closer, EU farmers have expressed fears over an influx of South American beef. Meanwhile, the four Mercosur countries --Brazil, Argentina, Uruguay and Paraguay-- are similarly nervous about opening up their markets to European carmakers.
"On Mercosur's part, there is total disposition," insisted the Brazilian minister. "We have made progress in this negotiation, bringing us very close to the interests expressed by the European Union."
"On the European Union side, we have not seen the advances that we expected in some areas of great interest to Mercosur, especially in the agricultural sector," he said.
Mercosur countries are all food exporters but have run up against powerful European Agro-industry interests as well as concerns expressed by environmentalists.
The sides had been expected to wrap up the talks in December but failed in part because Mercosur rejected an EU beef quota offer as too low.
European Trade Commissioner Cecilia Malmstrom and Agriculture Commissioner Phil Hogan are expected to attend the talks in Montevideo. The Brazilian minister, who is heading the Mercosur negotiating team, expressed hopes of a breakthrough.
"We hope that this agreement can be realized given the importance that it has, both in Mercosur and in the European Union, and I would say even more so for the international environment, because it would be an agreement that would affirm the principles of exchange and international trade, that goes against the current of protectionism gaining ground in many European countries."
Mercosur began negotiating a free trade agreement with the EU in 1999. The talks regained momentum when President Donald Trump arrived in the White House in 2017.