Macri admits the seriousness of the situation and Dujovne is off to meet with IMF
Monday, September 3rd 2018 - 19:17 UTC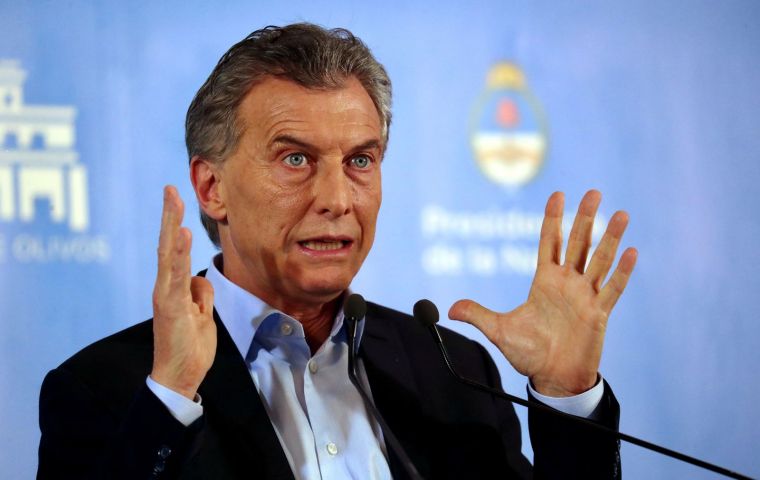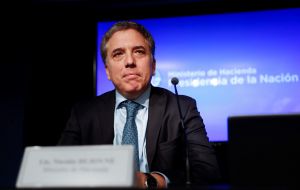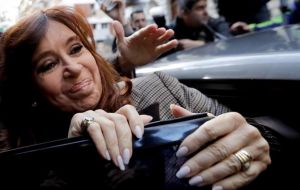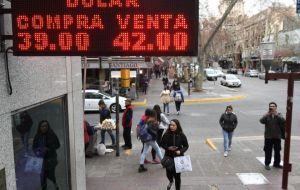 President Mauricio Macri unveiled plans on Monday to raise export taxes on grains and slash the number of government ministries in a bid to balance its budget next year, as Argentina seeks a deal with the IMF to accelerate a US$ 50 billion standby loan program.
The new austerity measures, announced by Macri and Finance Minister Nicolas Dujovne, were prompted by a 16% slide in the value of the Peso last week, bringing the local currency's losses to almost 50% against the dollar so far this year.
Investors were seeking determined action from Macri's center-right government to close its budget gap amid growing concerns that a recession this year and the sliding currency would leave the government struggling to service its debt, most of which is in dollars.
"This is not just another crisis. It has to be the last," said Macri in a televised national address early morning Monday, adding that the taxes on exports were an emergency measure that would be lifted once the economy stabilized.
He warned his countrymen that poverty levels would rise due to inflation running at more than 30% but said the government would make an effort to bolster some social programs, such as child and family welfare and soup queues.
Macri admitted in his national speech that "these last five months have been the worst of my life", since he was kidnapped over two decades ago.
Minister Dujovne said the measures announced on Monday would allow the country to achieve a balanced primary budget next year, excluding debt servicing costs, instead of a previous forecast of a 1.3% deficit. He said Argentina would achieve a primary fiscal surplus of 1% of GDP by 2020.
Almost all the increased revenue needed to eliminate the deficit will come from an export tax of 4 pesos per dollar on agricultural exports and 3 pesos per dollar on other goods shipped internationally, Dujovne said.
The contraction of the Argentine economy this year will be steeper than the 1% recession already projected, he said.
Dujovne is due to hold talks on Tuesday in Washington with senior International Monetary Fund officials to discuss accelerating disbursements under the US$ 50 billion standby financing deal reached with the fund in June.
Despite the IMF's backing, investors became jittery last week about Argentina's ability to pay its 2019 debts, prompting a stampede out of the peso.
Macri promised on Monday to intensify fiscal belt tightening by reducing the number of government ministries by half and taxing exporters, who get paid in dollars and have benefited from the peso's decline.
"Those who export will be asked to contribute more," Macri said in his televised address. But he also emphasized "We cannot continue spending more than we have, living beyond our tax revenues".
The structure of the Argentine federal budget is quite straight jacketed since most of it goes to public employees' salaries and old age pensions. This was aggravated during the mandate of Macri's predecessor, two terms ex president Cristina Fernandez, who, in her eight years froze public utility rates, pumped billions into subsidies and contracted an estimated 1.5 million new government staff plus pensioners, many without the necessary documents to prove their work record.
Macri in his first two years pulled Argentina out of default, partially increased public utility rates, lowered some of the subsidies in an approach to the challenge which was described as "soft" by opposition to "draconian". But an exceptional drought hit the rich pampas, with a loss of an estimated 10bn dollars in income plus the collapse of Brazil, of which Argentine industry is highly dependent, with no chances of other markets given its lack of competitiveness.
A massive inflow of dollars following the agreement with the sovereign bond holdouts in 2016 kept the Peso overvalued and an estimated 10 billion dollars were spent annually in overseas travel by Argentines plus an almost two years negative trade balance.
This helped Macri sweep the midterm elections of last October, increasing his ruling coalition's representation, but still short of a clear majority in Congress. Macri's administration continued then with the soft approach, targeting his possible reelection in 2019, but foreign investors, and the run away from emerging markets attracted by US president Donald Trump's fiscal reform, and a strong dollar, (as the Fed raises interest rates) proved the kiss of death for Argentina.
The big discussion with the IMF was/is whether to let the Peso float against the US dollar or have the central back intervene to stop the run and dumping of the Argentine currency. All of this will be discussed by Dujovne and his team in Washington on Tuesday, (Monday is Labor Day in the US) when they meet IMF managing director Christine Lagarde. So expect a volatile Monday and Tuesday, and Macri's "blood, sweat and tears" early Monday message was long announced...and delayed.
Anyhow the IMF and investors are well aware that so far the only possible democratic option to Macri's business friendly policies, is nonexistent, and in Argentina the opposition is dominated by the Peronist populist, fascist roots, movement that has palatable responsible potential candidates but also a very strong current supportive of the unorthodox (and corrupt) policies implemented by Cristina Fernandez de Kirchner.