Ex HMS Ocean becomes Brazilian Navy's flagship to maintain safety in the South Atlantic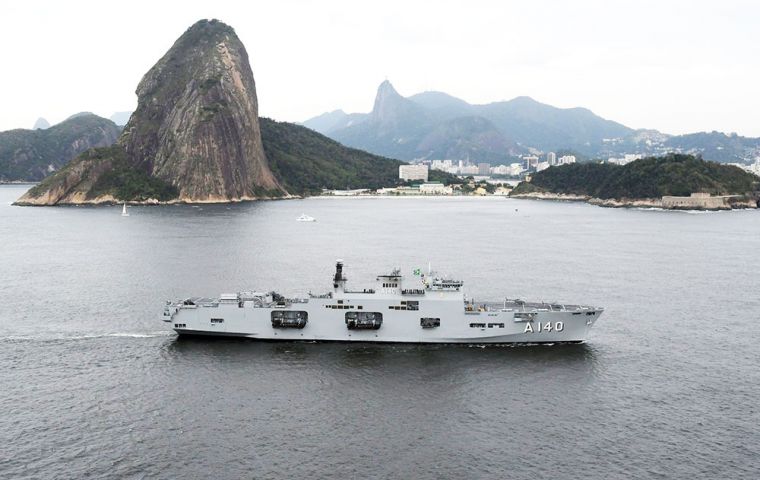 The Brazilian Navy (Marinha do Brasil) new helicopter carrier PHM Atlântico (A 140) (Multipurpose Helicopter Carrier) reached Rio de Janeiro, its homeport, on August 25. PHM Atlântico previously served as the Royal Navy LPH HMS Ocean for twenty years.
The Brazilian Navy commissioned its new helicopter carrier during a ceremony held at the Royal Navy base in Devonport on June 29, 2018.
Before being procured by Brazil for £84 million, Atlântico was refitted by Babcock and BAE Systems. The helicopter carrier package for Brazil includes an Artisan 3D search radar, KH1007 surface surveillance radar system, four 30 mm DS30M Mk 2 remote weapon systems and four Mk 5B landing craft. However, the three original 20 mm Mk 15 Block 1B Phalanx close-in weapon systems, the torpedo defense systems and 7.62 mm M134 machine guns were removed from the ship.
The vessel becomes the Brazilian Navy new Flagship following the decommission aircraft carrier Sao Paulo. The ship displaces 21.578 tons, is 203.43 m long and has a range of 8,000 nautical miles. It began the journey to Brazil with a stopover at Lisbon the beginning of August from the UK.
The ex HMS Ocean was once one of Britain's biggest warships. Commissioned in 1998, the helicopter carrier sailed 454,451 nautical miles and completed many deployments.
In 2000, she was in Sierra Leone in Operation Palliser. Then in 2003, she took to Iraq, where her helicopter crews were involved in securing the city of Bazra, and early on in the battle Royal Marines took Al-Faw Penisula. She also saw action in Libya in 2011. And most recently, last September the ship was diverted to the Caribbean to help out with the aftermath of two Category 5 hurricanes.
According to the Brazilian Navy website:
"The ship will add to the Brazilian Navy important amphibious capabilities and naval operations with embedded helicopters to maintain the safety of the South Atlantic and the defence of the country's maritime interests anywhere on the planet.

Designed to operate with up to seven aircraft in its convoy and 12 in the hangar, it can transport 500 to 800 Marines Operational Groups and design them by heli-transport or surface movements, employing its four landing craft, from a distance of up to 200 miles from the coast (about 321 km)."