Falklands' waters alleged incident denied by Argentine navy and foreign ministry
Friday, September 7th 2018 - 09:25 UTC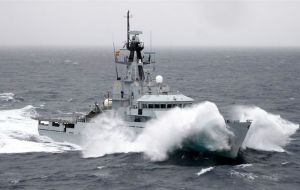 The Argentine foreign ministry and Navy have denied any incident in the South Atlantic involving ARA Puerto Deseado, a naval hydrographic research vessel, which allegedly on September 2, came close to Falkland Islands waters, and was first reported by an Islands' site hi.Sutton.com.
In effect ARA Puerto Deseado was cruising the Burwood Bank, commissioned by Argentina's Scientific and Technical Research center, and operating some 70 nautical miles northeast off the Island of the States (extreme south of Argentina) when it was surprised by a strong storm and was forced to sail towards the Falklands, but at the same reported the situation to the British forces in the Islands.
Argentine, and British naval forces stationed in the Falklands, are in close contact since they both belong to the world net of Search And Rescue operations, and have a bilateral protocol dating back to 1989 and 1991 referred to naval vessels in the area, as explained by the Argentine navy spokesperson, Captain Enrique Balbi.
Furthermore contrary to what was reported from what now seems a "fake news" site, there was no involvement of the Falklands patrol vessel HMS Clyde, and the Automatic Identification System of ARA Puerto Deseado was never turned off as is was denounced, allegedly "since the Argentine navy was testing Falklands' defenses".
Actually HMS Clyde was also trying to evade the storm and sailed into the Falkland Sound. According to Captain Balbi the Marine Graphic tracking which showed HMS Clyde in the "incident area" belonged to June operations.
Likewise once climate conditions improved the Argentine vessel returned to its original scientific researching and now is back in Ushuaia, Tierra del Fuego from where she departed.
At the Argentine foreign ministry the "non incident" was downplayed, and the event blew out of proportion both by the Argentine and British yellow media following on the first report from an Islands' site.