Latin American countries will receive Venezuelan migrants even with expired documents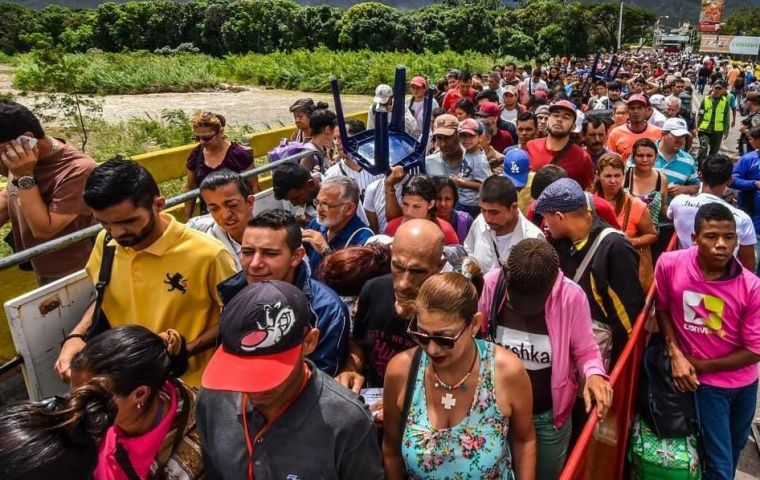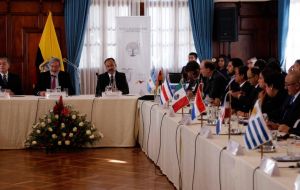 Eleven Latin American countries say that they have agreed to allow Venezuelans leaving their homeland to enter their countries even if their travel documents have expired. More than 2.3 million Venezuelans have fled the country's hyperinflation and severe shortages, but many do not have valid passports because renewing them can take years.
The move will come as a relief to those who say they were trapped in Venezuela due to their lack of papers.
Venezuelan President Nicolás Maduro has repeatedly mocked those who leave, saying they "fall for propaganda only to leave and clean toilets in Miami".
The announcement was made after a two-day meeting of migration officials from Latin America in the Ecuadorean capital, Quito.
Eleven of the countries represented signed a joint declaration in which they also called on the Venezuelan government to speed up the process of issuing passports.
Venezuelans have long complained about how difficult it is to get hold of passports and other official documents such as birth and marriage certificates and ID cards.
Many have reported being asked for bribes up to US$ 1,000 for a passport which could rise to US$ 5,000 if the applicant had urgent reasons to leave, such as wanting to visit a sick family member abroad.
The government has blamed shortages of paper and "mafias" inside the registry service, known as Saime, for the delays. In June, four Saime officials were arrested for extortion and a new director of the service was named in July. But with tens of thousands of Venezuelans wanting to leave, the queues remain long.
The countries which will allow Venezuelans to enter with expired papers are: Argentina, Brazil, Chile, Colombia, Costa Rica, Ecuador, Mexico, Panama, Paraguay, Peru and Uruguay.
The Latin American countries which have seen the biggest influx say they have been struggling to deal with the high numbers of Venezuelans crossing into their territory. Last month, Ecuador started demanding Venezuelans show valid passports at the border, a measure which was later overturned by a court because it contravened a regional agreement on free travel.
Peru followed suit but children, pregnant women and children remained exempt from the requirement. The Venezuelan government has denied there is a migration crisis and said "enemy countries" had inflated the number of those leaving to justify an invasion.