Bolsonaro's condition stable: optimism about his recovery and resumption of campaigning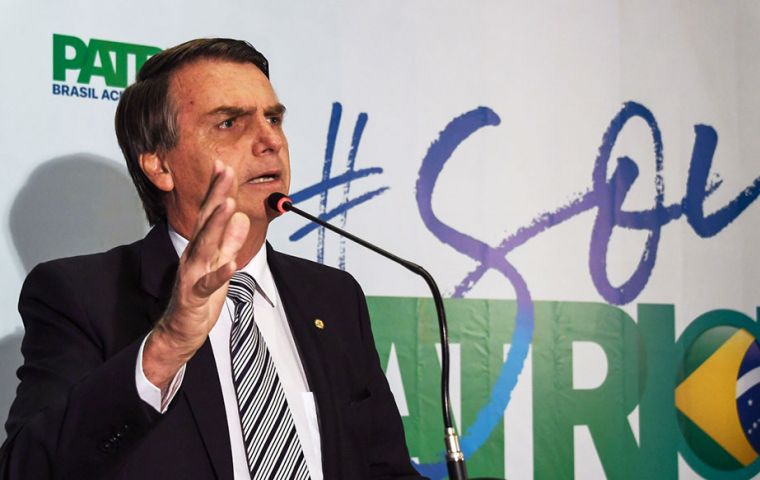 The leading candidate in Brazil's presidential race who was transferred to the Albert Einstein Israelite hospital in Sao Paulo for further treatment after being stabbed at a campaign rally, is stable and recovering according to medical and official reports.
Jair Bolsonaro, a far-right candidate in Brazil's October 7 presidential election, was attacked in the city of Juiz de Fora, on Thursday. On Friday morning, the 63-year-old underwent a roughly 500km trip after undergoing emergency surgery to address a perforated liver, intestines and the mesenteric artery.
According to the latest medical reports Bolsonaro should be ready to retake campaign activities a week before the presidential election on October 7.
Raul Jungamnn, Public Security secretary revealed that the candidate must still spend seven to ten days under intensive therapy and another 20/25 days recovery before resuming activities.
Eduardo Bolsanaro, a member of the Lower House and son of the candidate addressed followers outside the hospital and said his father's condition was stable, "evolution is going fine, doctors have praised his spirit. I want to thank all of you who prayed and are praying for him, or somehow are sending positive energies to the hospital, it has been very effective".
However Bolsonaro must undergo additional surgery, although no date has been fixed.

Dr Luiz Henrique Borsato, who operated on him, said "his internal wounds were grave and put the patient's life at risk".
Videos shared on social media showed Bolsonaro, whose agenda includes cracking down on crime in Latin America's largest country, being carried through a crowd by his supporters when he is suddenly stabbed with a knife to the lower part of his stomach.
The attacker was arrested immediately. He was identified as Adelio Bispo de Oliveira, 40, who said he was "carrying out a divine mission, a mission from God", according to Luis Boundens, head of a union of federal police officers.
Oliveira was affiliated with the left wing Socialism and Liberty Party from 2007 to 2014, the party said in a written statement, in which it repudiated the violence. Authorities are investigating the suspect's mental health, police said.
A second son of Bolsonaro, Flavio, said in a tweet late on Thursday that his father was "stronger than ever" and ready to be elected in October. "I just want to send a message to the thugs who tried to ruin the life of a family man, a guy who is the hope for millions of Brazilians: You just elected him president. He will win in the first round"
Bolsonaro is the frontrunner in the first round of the presidential elections next month with 22% support, according to a poll published by the Institute of Public Opinion and Statistics (IBOPE). It was the first public opinion poll since former president and popular union leader Lula da Silva, was barred from running by Brazil's electoral court on September first.
Lula, who was previously leading the opinion polls, is currently serving a 12-year prison sentence for fraud related to a corruption scandal.