Brazil's August inflation drops 0.09%, the lowest rate in twenty years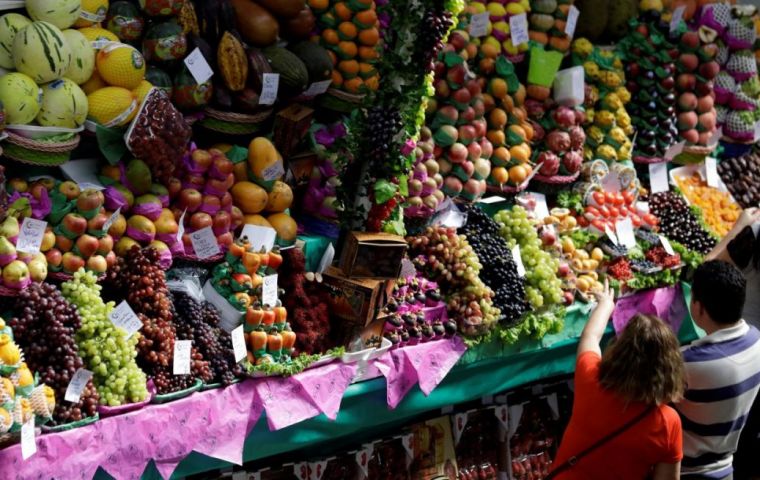 Brazil's inflation eased more-than-expected in August as prices fell from the previous month, preliminary data from the statistical office IBGE showed Thursday. The consumer price index, IPCA, rose 4.19% year-on-year following a 4.48% in July. Economists had forecast a 4.29% inflation rate.
Compared to the previous month, the IPCA dropped 0.09% in August, which was the lowest rate for the month since 1998, when there was a 0.51% fall. Economists had expected prices to remain unchanged. In July, prices rose 0.33%.
Cumulative inflation for the first eight months of this year remained at 2.85%. The Central Bank set an inflation goal of 4.5% for this year, with a 1.5% plus/minus margin. Markets last Monday forecast that this year's inflation rate would end at 4.16%.
According to IBGE the fall in goods prices during August was spurred by the food and beverage sector which saw prices contract for the second consecutive month. Transport and fuel also witnessed decrease in prices, down 1.22% and 1.86%. However, the price of household goods rose 0.44% while health and personal care goods increased 0.53%.
"The decline in Brazilian inflation in August, to 4.2% y/y, adds to the reasons to think that Copom won't raise interest rates at its meeting this month," Capital Economics economist William Jackson said.
"Moreover, core inflation still looks quite soft and we think the pace of the eventual rate hikes over the next 12 months will be less aggressive than is currently being priced into financial markets."
Capital Economics expects the Selic rate to be raised to 8.50% by the end of 2019 from 6.50% currently.