Bolsonaro recovering from abdominal stabbing: functions returning and he walked a few steps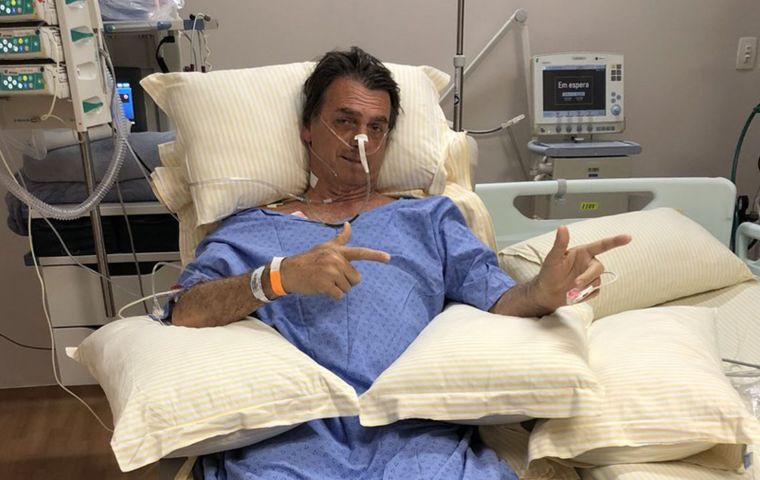 The health of Brazil's far-right leading and poll-leading presidential candidate Jair Bolsonaro was markedly improved after he was stabbed last week at a campaign rally, the hospital where he is being treated said on Sunday.
Bolsonaro, 63, remains in intensive care as the perforations of his intestines keep doctors watching for any internal infections. In a written statement, the Einstein Hospital in Sao Paulo said he was spending more time out of bed, but still receiving food intravenously.
The report said basically "there is no evidence of infection although he does have a slight anemia, the result of the original bleeding. The patient should begin to intake solid food in the next few days. Currently he receives nutrients intravenously.
"Circulation between the intestine and liver has been preserved. The intestinal paralysis following the trauma is showing signs of regression, that is, possibly in the coming days, the intestine functions will normalize and the patient can begin to ingest food orally.
"On Saturday the patient walked for a few minutes with the help of physiotherapists. These cares must persist in the following days to reduce risks of thrombosis, lung complications, and accelerate the recovery of the functioning of the intestine".
Thursday's knife attack against Bolsonaro further complicated Brazil's most unpredictable election in three decades. Corruption investigations have jailed scores of powerful businessmen and politicians in recent years, infuriating voters.
Bolsonaro has for years angered many Brazilians with extreme statements on race, gender and sexual preference, but is also seen by his many supporters as an outsider who could clean up a broken system.
Police have a suspect in custody and say only that they are continuing the investigation and that no clear motive was yet known, though the assailant told police he stabbed Bolsonaro on Thursday on "orders from God."
Surveys consistently give Bolsonaro, a member of the Social Liberal Party, around 22% in simulated first-round votes. However, those polls find he would badly lose to most rivals in the likely event of a runoff, which takes place if no candidate wins a majority in the first ballot.