Announcing 2018 HWPL Peace Summit: Spreading world peace and cessation of war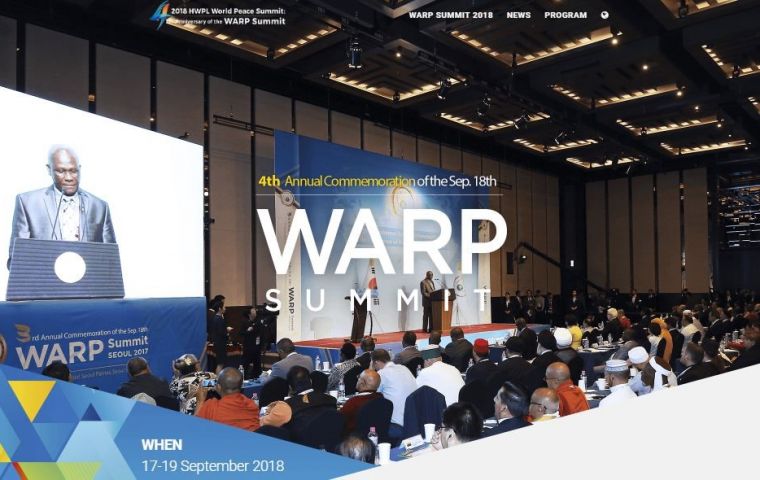 UN-affiliated NGO based in South Korea Heavenly Culture, World Peace, Restoration of Light (HWPL) will held her fourth Peace Summit in order to promote world peace and the cessation of war. Since 2014, the NGO has hosted the World Alliance of Religions' Peace (WARP) Summits with the slogan of "everyone to become messengers of peace" to put in the debate the realizable methods for world peace in association with the leaders from each sector of the global society.
"If there is an answer to peace, every family of the global village born in this era should become a messenger of peace. It is our responsibility to put an end to war and make sustainable peace a legacy for future generations.", Chairman of HWPL, religious leader and peace advocate Man Hee Lee take as a message to the people.
Under the United Nations Economic and Social Council (ECOSOC) and UN Department of Public Information (UNDPI), the peace summit by HWPL will be held in South Korea from 17th to 19th on September.
This, the 4th edition of the summit, will run under the theme of "Collaboration for Peace Development: Building a Peace Community through the Declaration of Peace and Cessation of War (DPCW)."
HWPL is an international peace NGO supported by the UN committed to bring world peace and cessation of war. The organization transcends culture, religion and ideology.
As a result of such collaborative efforts, in 2016, HWPL and world-level international law experts proclaimed the Declaration of Peace and Cessation of War (DPCW) that can prevent any armed conflict at its core.
According to the host organization, the NGO has advocated the participation of international organizations, governments, and civil societies in achieving peace through "Establishing Collaborative Governance for Development and Implementation of the DPCW". Based on the idea of collaborative governance, this year's summit aims to further seek for the driving force for the enactment of the international law for peace through an all-encompassing approach involving different areas of expertise.
To participate in this year's summit or to get further information about the project, visit the event's website.