IMF team in Buenos Aires for talks on the standby loan package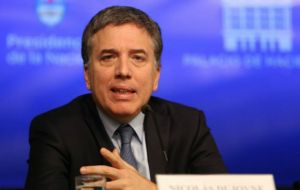 Officials from the International Monetary Fund are in Argentina as part of talks to strengthen and accelerate a crisis loan package, the global lender said Wednesday. The IMF and Buenos Aires agreed in June on a three-year, US$50 billion rescue lending programme but Argentina has since asked for a more rapid disbursement.
Buenos Aires has received US$15 billion so far but any changes will require the approval of the IMF board.
"An IMF team led by Mr. Roberto Cardarelli is currently in Buenos Aires to continue discussions with the Argentine authorities to further strengthen Argentina's IMF-backed program" an IMF spokesman said in a statement.
"Fund staff will be working intensively, in collaboration with the government, to identify how the IMF can best support Argentina in the face of renewed financial volatility and a challenging economic environment."
Argentina's Finance Minister Nicolas Dujovne has denied that Buenos Aires is seeking additional funding beyond the amount already agreed to.
President Mauricio Macri is under increasing pressure as the peso has plunged - despite intervention from the central bank - and the recession worsens. And he is facing growing opposition from the public for seeking help from the IMF, which has a bitter history in the country and is blamed for the economic woes.