Argentine currency drops to a new record low of 39.90 pesos to the US dollar
Friday, September 14th 2018 - 09:28 UTC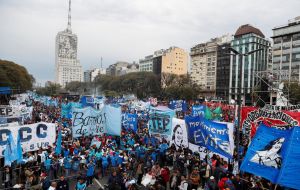 Argentina's peso currency fell 3.51% on Thursday to close at a new record low of 39.9 per U.S. dollar, as market confidence ebbs away despite President Mauricio Macri's efforts to reassure investors. Dollar demand had risen on Thursday due to high liquidity sparked by an auction of treasury notes, traders said.
Thousands of public school teachers and university professors marched against Macri's fiscal belt tightening plans in capital Buenos Aires on Thursday, saying that the administration was funding the army and police while letting education and welfare programs suffer.
Grim inflation news on Thursday also weighed on the currency, with official data showing that consumer prices grew 3.9% in August, bringing the 12-month rate to 34.4%. Educators, like other salaried workers in Argentina, say their pay packages are not keeping up with inflation, resulting in a month-by-month reduction of their purchasing power.
Education Minister Alejandro Finocchiaro told reporters on Thursday that despite the financial constrictions the government would fully fund Argentina's schools.
Investors grew concerned about Argentina's ability to honor its 2019 debt obligations earlier this year, prompting a run on the local currency that forced the government to negotiate a US$ 50 billion standby deal with the International Monetary Fund.
Targets included in the IMF agreement are being renegotiated to reflect market concerns that the government was not moving fast enough to cut its primary fiscal deficit.
Macri's administration now vows to erase the shortfall next year. His previous 2019 deficit target was 1.3% of gross domestic product. Last month, the central bank hiked its key interest rate to a record 60% to try to stabilize the peso and calm inflation. High interest rates are one of the reasons why economists expect the economy to shrink this year.