Brazil currency closed on Thursday at a record low on political uncertainty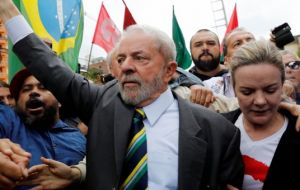 Brazil's currency closed at a record low of 4.197 to the US dollar on Thursday amid uncertainty and unpredictability surrounding next month's presidential elections. The previous record of 4.166 dated back to January 2016, during a two-and-a-half-year recession.
The real lost 1.12% of its value on Thursday and has now lost 21.06% since the start of the year.
Brazil's at times surreal presidential election campaign has created nervousness in the markets as the fortunes of the two primary candidates swayed dramatically.
Leftist ex president Lula da Silva was the runaway polls leader despite being jailed for 12 years in April for accepting a bribe. Yet on September 1 he was barred from standing, thrusting right-wing former army captain Jair Bolsonaro into first place in the polls, a full 10 points clear of his nearest challengers.
But Bolsonaro, a polarizing figure, was stabbed in the abdomen while campaigning in the south last week and remains in the hospital following three operations.
Although the attack by a leftwing activist boosted slightly his ratings, Bolsonaro's ailing health has injected renewed uncertainty into both the election race and markets.
Market friendly centre-right runner Geraldo Alckmin had been making gains but since Lula's Workers' Party named their replacement candidate, former Sao Paulo mayor Fernando Haddad, on Tuesday, some analysts are now predicting he will make it to the second round of voting and a run-off against Bolsonaro.
And that wouldn't be good for the markets. While Bolsonaro had been gaining traction among investors, "the market is now asking what would happen if Bolsonaro were to die between the first and second rounds of voting," chief economist at Guide Investments, Victor Candido Oliveira said.