Brazil's Bolsorano recovering but his presidential campaigning is over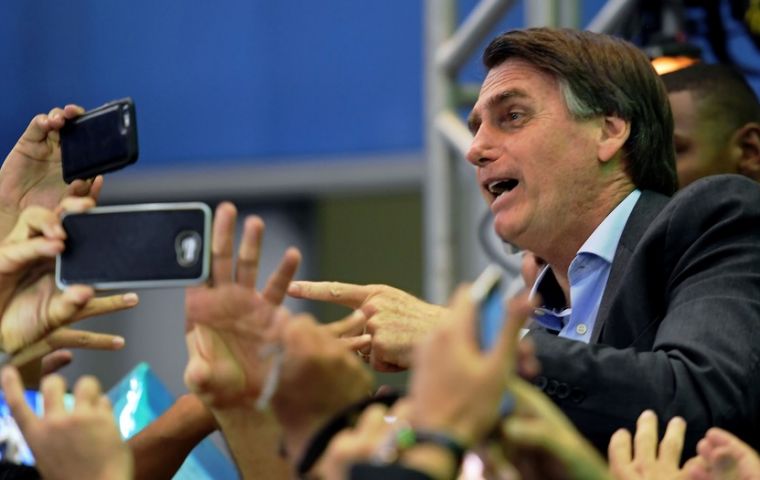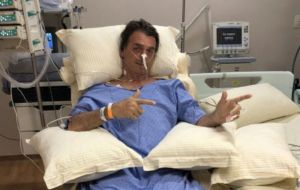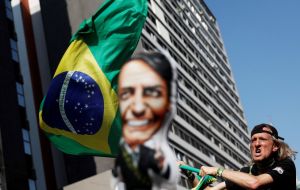 Jair Bolsonaro, the Brazilian far-right frontrunner for president, on Thursday was recovering from emergency surgery with no complications, but his running mate said his return to campaigning would be further delayed.
Bolsonaro nearly died after being stabbed last week by an assailant as he was carried aloft by supporters during a street rally. He underwent emergency surgery late Wednesday to repair an obstruction in his small intestine.
Albert Einstein Hospital in Sao Paulo, where Bolsonaro is being treated, said in a statement he had been moved to intensive care after the emergency procedure. Bolsonaro has had three operations, including two emergency procedures, since the attack.
The assassination attempt against the polarizing candidate plunged the most unpredictable presidential race since Brazil's return to democracy three decades ago into further confusion.
Several candidates have a good chance of making it to a runoff vote. Polls show about one-fifth of voters, disdainful of the political class after four years of unprecedented corruption investigations across parties, remain undecided or say they will annul their ballots. Voting is mandatory in Brazil.
Bolsonaro's running mate, outspoken retired army General Antonio Hamilton Mourao, told Reuters on Thursday that the latest operation would delay Bolsonaro's return to the campaign trail.
Mourao declined to say if Bolsonaro would be able to resume campaigning before the Oct. 7 first-round vote.
Earlier this week, the country's most popular politician, jailed former president Luiz Inacio Lula da Silva of the Workers Party (PT), gave up hope of running after the top electoral court barred him because of his corruption conviction. Former Sao Paulo mayor Fernando Haddad, who was Lula's running mate, is now the PT's presidential candidate.
Polls have shown that about one-half of Lula's supporters say they would vote for whoever runs in his place. That is likely enough support to push Haddad into a runoff, required in Brazil if no candidate wins a majority in the first ballot.
While Bolsonaro easily leads in polling on the first-round vote, surveys show he would likely lose in the Oct. 28 runoff. The chance that one of the leftist candidates could be elected has spooked investors and sent Brazil's currency near record lows.
Bolsonaro, with a record of voting for state-led economic policies during his nearly three decades in Congress, named a prominent investment banker as the head of his economic team, and has vowed to privatize state-run firms and follow orthodox policies.
Bolsonaro's son Flavio said last week his father would not be able to attend rallies ahead of the vote. "It's going to delay his return to activities," Mourao said by telephone. "This anxiety over when he will return only results in causing him more stress."
"We're going to keep the campaign running, but there's no talk of replacing him," he said. "I consider him to be irreplaceable."