Growing demand for a second referendum on Brexit, but time is running out
Tuesday, September 18th 2018 - 08:38 UTC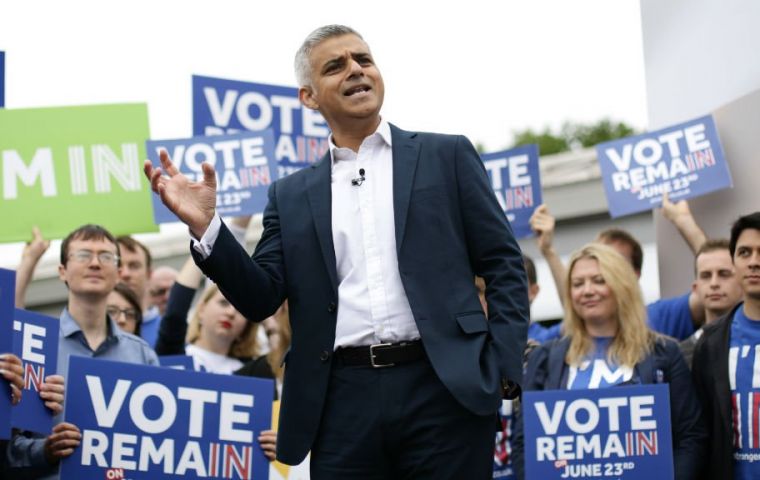 Calls for a second referendum on Brexit are mounting as Britain approaches the last six months before leaving the EU - but the sands of time could be running out for diehard Remainers. London Mayor Sadiq Khan became the latest big name to call for a vote, joining former prime ministers Tony Blair and John Major and celebrities like football star Gary Lineker.
The Liberal Democrats, the only major political party advocating a vote, will push their message again at a conference on Tuesday (Sep 18).
At the meeting in Brighton, party leader Vince Cable will urge Prime Minister Theresa May to "lead her party and the country by opening her mind to a people's vote on the final deal".
The government is opposed, while the main opposition Labour Party is not supporting the calls but also not ruling out the prospect.
Supporters of a second referendum are also divided over what the actual question might be, including whether it should include a question on staying in the EU.
"What would a second referendum be about? That's not clear at all," said London School of Economics professor Sara Hobolt.
Time is running down, as Britain is set to leave the European Union on March 29, 2019.
In the 2016 referendum, 52% voted to leave and 48% wanted to stay. Hobolt said polls indicate those proportions have reversed, with 52% who would now back staying in the bloc.
She also pointed to "a marked increase in people's support for a second referendum", pointing to a YouGov poll in July in which 42% of Britons favored a referendum on the terms of the Brexit deal - against 40% who were opposed.
But Hobolt doubted whether a new vote could take place without the support of either of the main parties.
Prime Minister Theresa May has stated a second referendum on any options would be a "gross betrayal" of British democracy.
Bookmakers reckon the odds of a second referendum are around one in four.
Some commentators say that technically it may already be too late. They say there would not be time to hold a referendum and for the British and European parliaments to ratify any deal by Britain's departure date.