Judge indicts ex president Cristina Fernandez and asks for her arrest
Tuesday, September 18th 2018 - 08:24 UTC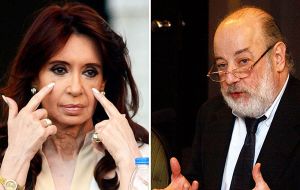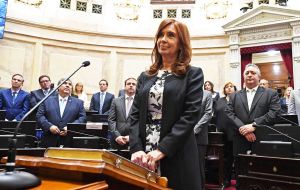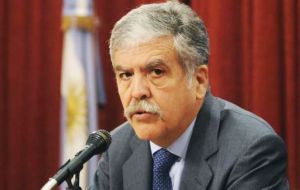 An Argentine federal judge indicted former President Cristina Fernandez on Monday and asked for her arrest for allegedly heading a corruption scheme that collected bribes from business leaders in exchange for public work contracts.
The decision by Judge Claudio Bonadio published by Argentina's official judicial news agency asked that Cristina Fernandez be taken into custody and for authorities to seize about US$100 million from the former leader.
Bonadio said Senator Fernandez committed crimes that included "being the boss of an illegal association" and taking bribes between 2003 and 2015. The period includes her two terms as president as well as the presidency of her late husband and predecessor, Nestor Kirchner (2003/2007).
Cristina Fernandez's has previously denied any wrongdoing. She calls Bonadio "an enemy judge" who she says is working with the administration of conservative President Mauricio Macri to persecute opponents and distract from Argentina's economic crisis.
As a Senator Cristina Fernandez, 65, has immunity from arrest but not from prosecution. That immunity could be lifted only by a vote of two-thirds of the country's senators.
The judge also indicted more than 40 former business leaders and former government officials, including ex-Planning Minister Julio de Vido.
"There was a collusion of officials and businessmen who made this scheme work, which took out with rigged proceedings money from the national state to the detriment of education, health, pensioners, which left the people poorer without sewage, services, safe transportation," Bonadio wrote. "And all of this was done to distribute bribes to corrupt officials."
More than a dozen people have been arrested in the case. They include business leaders and former officials who served in Fernandez's 2007-2015 administration.
Known as the "notebooks case," the investigation is based on a probe by the newspaper La Nacion into alleged corruption over more than a decade during the governments of Fernandez and Kirchner. The notebooks kept detailed records of bags of cash that were allegedly delivered to several addresses, including Cristina Fernandez's apartment in Buenos Aires.
It began after authorities received copies of notebooks with detailed information, photographs and video taken by a chauffeur of the planning ministry who is thought to have testified as part of a plea bargain.
Several former business leaders and ex-government officials have also spoken under plea bargains, but the details have not been made public.
Since leaving office in 2015, Cristina Fernandez has also been accused of money laundering, possible illegal enrichment and fraud.
Last December, Bonadio asked lawmakers to remove her immunity to allow her arrest on a charge of treason for allegedly covering up the role of Iranians in a 1994 bomb attack on a Jewish center, Argentina's worst terrorist attack, which killed dozens in downtown Buenos Aires.
Still, opinion polls indicate Cristina Fernandez remains the most popular opposition leader and is its best chance for winning if she runs in next year's presidential election.