Maduro's Turkish stake delight, shocks and infuriates hungry Venezuela
Tuesday, September 18th 2018 - 08:44 UTC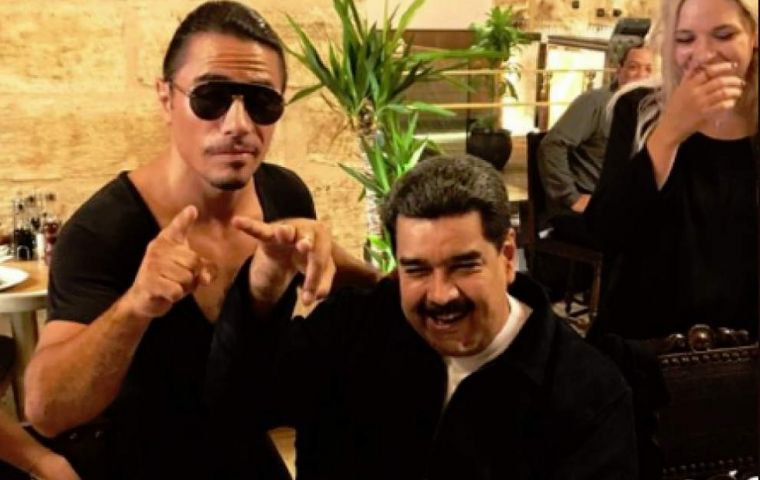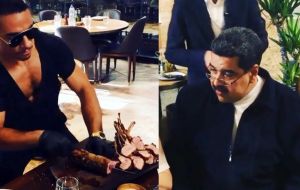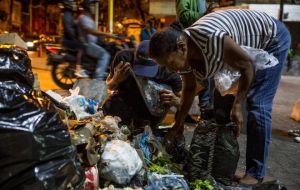 Venezuelan President Nicolas Maduro dined on expensive steak at a "Salt Bae" restaurant in Istanbul during a stop-off returning from a visit to China, drawing furor back home where millions struggle to get enough to eat and red meat is a rare luxury.
Turkish celebrity chef Nusret Gokce, who owns a chain of restaurants and is known as Salt Bae for his theatrical style of sprinkling salt on his steaks, posted videos and photos on his Instagram and Twitter pages showing Maduro and his wife, Cilia, dining.
In one video, Maduro tells fellow diners, "This is a once in a lifetime moment," as Gokce dramatically slices steak for them by their table while swaying his hips. In another video, Maduro smokes a cigar taken from a box with a plaque of his name.
Maduro confirmed the visit in a state broadcast later on Monday.
Venezuela's political opposition jumped on the meal as evidence of Maduro's disconnect from the country's crisis, which has caused over 2.5 million people to emigrate to escape widespread shortages of food and medicine.
Almost two-thirds of Venezuelans surveyed in a university study published in February said they had lost on average 11 kilograms in body weight last year, and 87% were assessed to live in poverty.
"While Venezuelans suffer and die of hunger, Nicolas Maduro and Cilia enjoy one of the priciest restaurants in the world, all with money stolen from the Venezuelan people," tweeted opposition leader Julio Borges, the former head of Congress.
On social media, Venezuelans shared mocked-up images showing Gokce doing his trade-mark salt sprinkle pose above a skeletal child.
Maduro said he visited the restaurant for lunch during a two-hour stop in Istanbul.
"Nusret attended to us personally. We were chatting, having a good time with him. ... He loves Venezuela, he told me several times," Maduro said.
Maduro had travelled to Beijing in hope of securing fresh funds for his cash-starved government, though he returned only having signed several deals involving Venezuela's energy sector.
Gokce went viral in 2017 after posting videos of himself salting meat with a cobra-like maneuver. He has over 15 million Instagram followers and has helped launch Nusr-Et restaurants, which charge several hundred dollars for some cuts of meat, in the Middle East, New York and Miami.