Datafolha poll shows Bolsonaro and Haddad leading ahead of Brazilian election
Thursday, September 20th 2018 - 08:21 UTC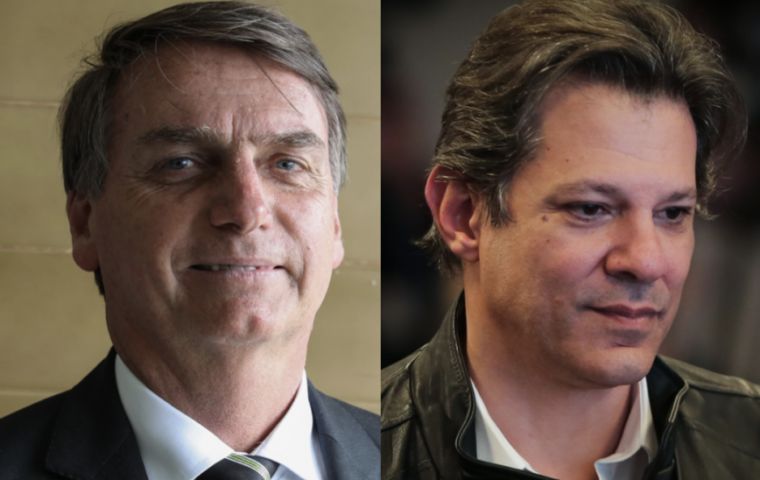 Far-right candidate Jair Bolsonaro gained ground over his rivals in the first round of Brazil's presidential election set for Oct. 7, a new poll showed on Thursday, though it remains unclear who he will face in an expected run-off vote on Oct. 28.
Bolsonaro, who is recovering in hospital from a near-fatal stabbing two weeks ago, is backed by 28% of the voters surveyed by polling firm Datafolha, a gain of 2 points since the previous poll a week ago.
The Workers Party's candidate Fernando Haddad surged into second place with 16% of the voters surveyed backing him, a 3 percentage point rise, but he is statistically tied with Ciro Gomes, a center-left populist.
Datafolha surveyed 8,601 voters across Brazil on Sept. 18 to 19. The poll, published by the newspaper Folha de S.Paulo, has a margin of error of 2 percentage points.
Haddad replaced jailed former president Lula da Silva on the ticket nine days ago. Gomes' support remained at 13 percent, according to Datafolha.
With no candidate projected to win a majority in the first ballot, the two best-performing hopefuls will meet in a run-off. Ciro Gomes is the only candidate projected to beat Bolsonaro in a second-round vote, according to the poll.
Gomes, a former Ceará state governor would defeat Bolsonaro with 45% of the votes against 39% for the right-winger, Datafolha said.
Bolsonaro, a former army captain who favors easing gun controls, may have trouble winning a second round race against Haddad as they are tied at 41% each, according to Datafolha.
Bolsonaro shot ahead early in the race by tapping the anger of Brazilians fed up with political corruption and rising crime.
The poll indicated that Lula's strategy of convincing his supporters to vote for Haddad, a former mayor of Sao Paulo, is working well and his stand-in could well reach the second-round vote.
Two-term president Lula was banned from running due to a corruption conviction but he remains Brazil's most influential politician and his party is could return to power after governing Brazil from 2003 to 2016.