Ascension Island runway resurfacing works will go ahead, confirms MoD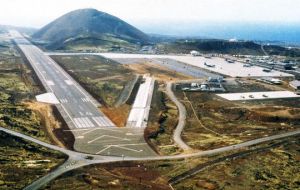 A spokesperson for British Forces South Atlantic Islands has dismissed stories that plans to refurbish Ascension Island runway are not to go ahead. The spokesperson told Penguin News on Thursday: "The commercial process is ongoing for the runway resurfacing works at Ascension which is led by the United States.
"This is a lengthy and complex process which will not see the RAF utilizing the runway at Ascension until at least 2020. However the plan to go back to using Ascension remains unchanged as soon as resurfacing work is complete."
Falklands are linked to UK via the South Atlantic Airbridge from Brize Norton to MPA, normally twice a week which had its refueling hub at Ascension Island. However since the second quarter of last year it has been forced to transit through West Africa because of the resurfacing project in the Ascension runway.
Anyhow the SAA is responsibility of the UK Ministry of Defense and they ensured at the time of the new stopover, in Cabo Verde, that they will continue to provide seats to civilian passengers throughout this period, as per the existing agreement with the Falkland Islands Government.
Ascension Island remains a strategically important site for the MoD and the UK. The 2 mile runway at Wideawake Airfield requires a full-depth resurfacing, but smaller military aircraft, including the RAF C17, C130 and A400M, can still operate safely.
Given Ascension's isolated location and the resultant logistical challenge, the repair works are not expected to be complete until 2020.
The runway is owned and operated by the US Air Force under the Bahamas Agreement and they are therefore responsible for the design, management and delivery of the resurfacing project, said the MoD release at the time. (PN) .