Bolsonaro reprimands his chief economic advisor over new taxes controversy
Saturday, September 22nd 2018 - 08:24 UTC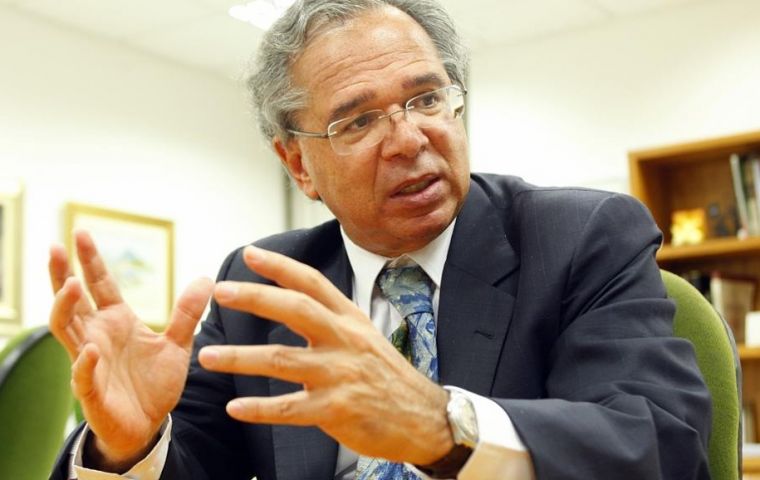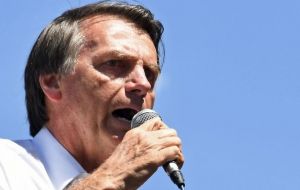 The key economic adviser to Brazil's leading presidential candidate cancelled two campaign events on Friday amid a disagreement with his boss. Market-friendly Paulo Guedes, the main adviser of far-right candidate Jair Bolsonaro, canceled events at the American Chamber of Commerce and broker XP Investimentos in Sao Paulo.
Bolsonaro has said that Guedes will be Brazil's economy minister if he wins. He leads polls at almost 30% support for the Oct. 7 vote, but faces a dead heat against any other opponent in a likely runoff weeks later.
The cancelations come two days after Guedes defended reviving an unpopular tax on bank transfers. The presidential candidate quickly came out to say such a measure would not be adopted.
Bolsonaro, a former army captain, is recovering in a hospital after being stabbed earlier this month while campaigning. Later Friday, in his first interview since the incident, he said Guedes is still in his campaign.
You would like to read: Bolsonaro expects to be discharged from hospital, "God willing" at the end of the month

"He doesn't have political experience," Bolsonaro told the daily Folha de S.Paulo, referring to Guedes. "He gives one-hour long lectures, says one thing in a few seconds and the press goes after him.
"Earlier in the day, Bolsonaro said on Twitter that his economy team "always ruled out any rise in taxes". He added "Free market and less taxes is my motto in the economy".
His son Flavio denied that Bolsonaro would adopt income tax measures reportedly suggested by Guedes. But in the Folha interview the candidate didn't rule them out.
On Wednesday, Brazilian media said Guedes told a group of investors that he planned to reduce income taxes on the wealthy to 20% from the current 27.5%.
He also reportedly said he would have Brazilians making less than US$ 500 a month start paying 20 percent of income tax."It seems to be a good idea," Bolsonaro said. "A single levy for income tax is a good idea."