Brazil's colored community sponsors Black & Black network to promote its political candidates
Monday, September 24th 2018 - 09:17 UTC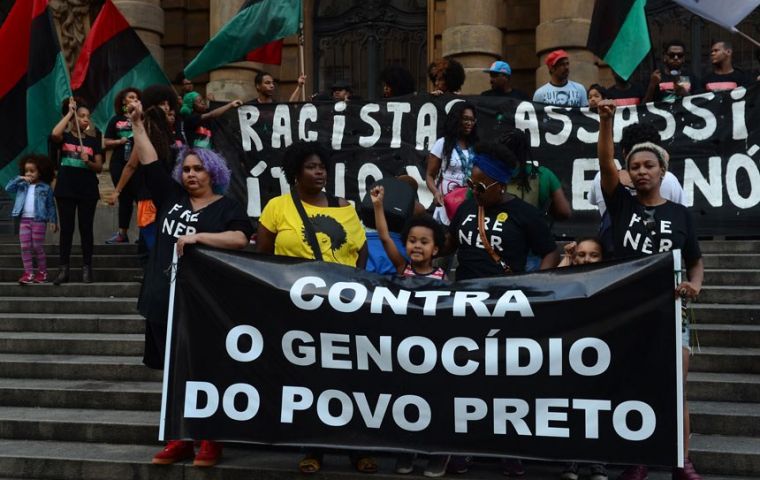 In Brazil's general elections approach, a new social network is gaining traction aimed at giving greater visibility to black candidates while highlighting anti-racism initiatives in the country tainted by racial prejudice. Black & Black, which has 100,000 users -- in a population of more than 200 million -- aims to "connect the demands and narratives of the world's black population" and to ensure that "black people get the prominence they deserve."
Brazil was the last country in the Americas to abolish slavery in 1888, and after centuries of racial mixing in Brazil, 55% of Brazil's population is either black or mixed race, according to the IBGE institute of statistics.
But the black community has historically lacked a uniting factor, according to Luana Genot, executive director at ID_BR, a charity that helps black people find work. "The situation is different in the United States, for example, where the legal separation of races contributed to uniting the black community," said Genot.
"Black movements, women who talk about black beauty, black dances, afro religion... We can have different interests, but there's one thing that unites us: the feeling of being black," said Celso Athayde, the network's creator.
Crucially, it's also a space to get stuck into politics, facilitating exchanges with black candidates for October's legislative and gubernatorial elections.
Under the government of now-jailed socialist Lula da Silva from 2003-10, quota measures were introduced to increase the numbers of black people attending university or working in the public sector. Those measures were criticized by conservatives, and notably right-wing presidential front-runner Jair Bolsonaro.
Still, black or mixed race people make up only 20% of representatives in the lower chamber of Congress -- although 46% of candidates are black or mixed race in the campaign for October's legislative, gubernatorial and state assembly elections being.
That doesn't mean they will win a seat, Athayde says.
"Blacks are not elected because you need financial resources for that and they don't have them because they're not employers," he said. He added the under-representation of blacks in Congress is due to a lack of policies favoring the community.
The problems aren't confined to politics: of business management positions, non-whites make up just five percent. Athayde says businesses in general are missing an opportunity to tap into a market that offers huge commercial possibilities.
According to the Locomotiva Institute pollster, black consumption in 2017 was worth 1.6 trillion reals (US$ 336 billion), around a quarter of GDP.