"Thank you Donald Trump, for surrounding me with dignity" replies Maduro next to US sanctioned officials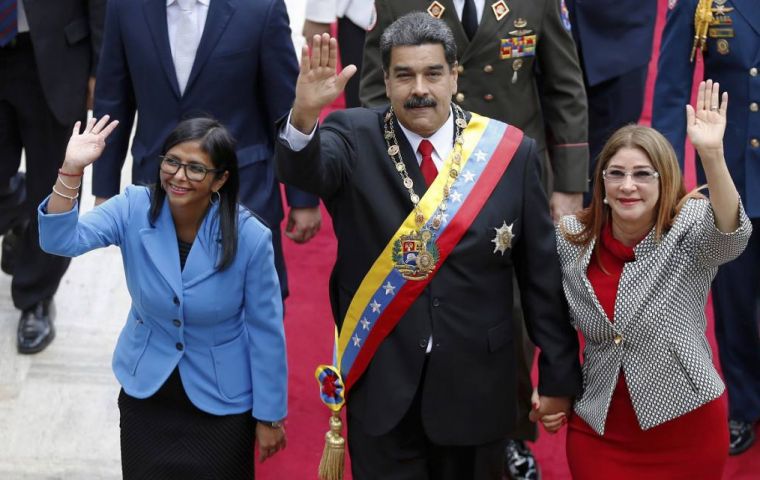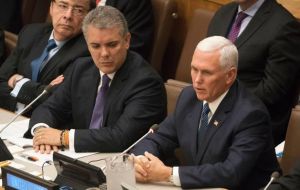 Venezuelan president Nicolas Maduro replied to Donald Trump's UN speech saying his comments were an apology for America's history of colonialism in the region and offered words of support for the sanctioned officials who joined him during an event broadcast over state television.
Maduro has consistently argued he is the victim of an "economic war" led by U.S.-backed adversaries. He denies limiting political freedoms, insisting opposition leaders have plotted assassination attempts and sought to overthrow him through violent street protests.
"I'm surrounded by sanctioned (officials)," Maduro said. "Thank you, Donald Trump, for surrounding me with dignity."
Maduro nonetheless said he hoped to arrange a face-to-face meeting with Trump. The White House responded to a similar request last year by saying such a meeting would happen when the country returned to democracy.
The Trump administration has levied several rounds of sanctions against Maduro's government since 2017. Sanctions such as those published on Tuesday bar American citizens and companies from any dealings with the individuals in question, which blocks them from holding bank accounts or contracting services from U.S. firms.
"More personal sanctions can maybe deprive top Venezuelan officials from some ill-gotten gains but this will hardly destabilize the regime," said Raul Gallegos, associate director of consultancy Control Risks.
A broader set of financial sanctions created last year bar American investors from acquiring newly issued debt, effectively locking the country out of credit markets and further fuelling its cash-flow problems.
A group of U.S. senators said on Tuesday they had introduced legislation seeking to address the crisis in Venezuela by, among other things, tightening sanctions and providing US$ 40 million in humanitarian aid.
U.S. Vice President Mike Pence separately said on Tuesday the United States would provide an additional US$ 48 million to "partners in the region" to confront the "humanitarian crisis" caused by the growing migration of Venezuelans.
The U.N. migration and refugees organizations said in a joint statement in August that 2.3 million Venezuelans are currently living abroad and more than 1.6 million have left since 2015. Venezuela does not release migration figures.
Maduro has hung on to power in part because of continued support of members of the armed forces such as Padrino, 55, who was appointed defense minister in 2014.