China unveils plan to cut tariffs on over 1.500 industrial products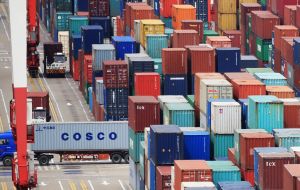 China on Wednesday unveiled plans to cut tariffs for products including machinery, electrical equipment and textile products beginning on Nov. 1, as the country braces for an escalating trade war with the United States.
The cuts on over fifteen hundred industrial products are expected to lower costs for consumers and companies by about 60 billion yuan this year, the state cabinet said in a meeting chaired by Premier Li Keqiang, according to the state radio. The overall tariff level will be reduced to 7.5% in 2018 from 9.8% in 2017 as a result, the state cabinet said.
Beijing has pledged to take steps to increase imports this year amid rising tension with some of its biggest trade partners, such as the United States.
Beijing accused Washington of "putting knife to its neck" as U.S. tariffs on US$ 200 billion worth of Chinese goods kicked in on Monday, prompting Beijing to retaliate with additional tariffs on US$ 60 billion of U.S. products including liquefied natural gas.
Average tariffs for machinery and electrical equipment - one of China's biggest imports by value - will be reduced by nearly a third to 8.8% from 12.2%, the state cabinet said.
China imported over US$ 632 billion worth of machinery and electrical equipment in the first eight months of the year, up 19.6% year-on-year, official data showed.
Tariffs on textile products and construction materials will drop to 8.4% from 11.5%, while the tariff on paper products will be lowered to 5.4% from 6.6%.
Earlier in July, China reduced import tariffs on a range of consumer items including apparel, cosmetics, home appliances, and fitness products to fulfill pledges to further open China's consumer market.