Labour ready to govern, says Corbyn, and to support a "sensible" Brexit deal
Thursday, September 27th 2018 - 05:43 UTC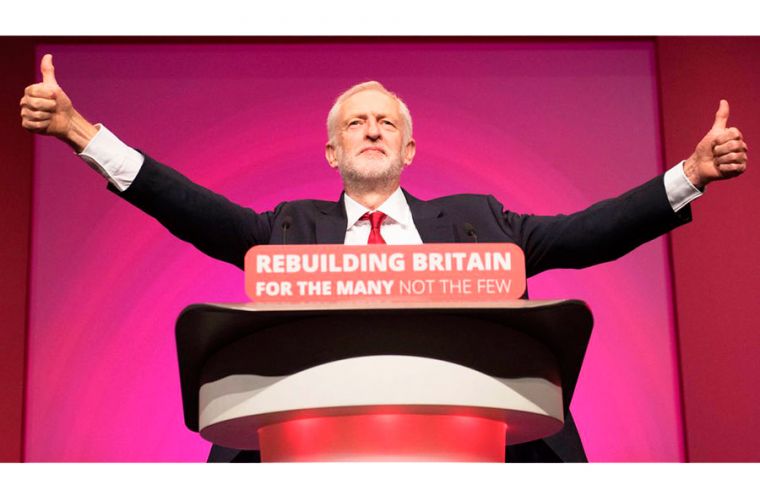 Labour is "ready" to start work on a "radical plan to rebuild and transform our country", Jeremy Corbyn has told his party conference in Liverpool. The Labour leader also offered to back Theresa May if she presented a "sensible" Brexit deal to MPs for approval, but he said that Labour would oppose the PM's current plan "or whatever is left of it", and vowed to fight any move to leave the EU without a deal.
Mr. Corbyn vowed to end the "greed-is-good" culture that has dominated politics and "kickstart a green jobs revolution". "We represent the new common sense of our time," he told the Labour faithful.
Labour is hoping to force a general election if the final Brexit settlement is rejected by Parliament, and has not ruled out backing another referendum if one is not called.
Mr. Corbyn spoke for more than an hour, setting out his vision for a "fairer society under Labour" to enthusiastic support in the hall.
"When we meet this time next year let it be as a Labour government. Investing in Britain after years of austerity and neglect and bringing our country together after a decade of division," he told delegates, to cheers.
He told them "the old way of running things isn't working anymore" and Labor's better-than-expected election result last year showed voters were ready for something new.
"Ten years ago this month, the whole edifice of greed-is-good, deregulated financial capitalism, lauded for a generation as the only way to run a modern economy, came crashing to earth, with devastating consequences.
"But instead of making essential changes to a broken economic system, the political and corporate establishment strained every sinew to bail out and prop up the system that led to the crash in the first place. People in this country know - they showed that in June last year - that the old way of running things isn't working anymore."
Labour members voted on Tuesday to keep all options on the table - including a fresh referendum - if there is no Brexit deal with Brussels.
Mr Corbyn said in his speech he would support Theresa May on Brexit - if she got a "sensible" deal that included a customs union that prevented the return of a hard border in Northern Ireland and protected workers' rights.
He said Labour would vote against the PM's Chequers plan "or whatever is left of it" and oppose leaving the EU without a deal, which he said would be a "national disaster".
But he told Mrs. May: "If you deliver a deal that includes a customs union and no hard border in Ireland, if you protect jobs, people's rights at work and environmental and consumer standards - then we will support that sensible deal.
"A deal that would be backed by most of the business world and trade unions too. But if you can't negotiate that deal then you need to make way for a party that can and will."
This call, delivered with venom by Mr. Corbyn, went down well in the hall. Delegates gave their leader a standing ovation and there was an outbreak of "Oh, Jeremy Corbyn".
Turning to the row over anti-Semitism in Labour, Mr. Corbyn said it had caused "immense hurt and anxiety" and there was a standing ovation as he told Jewish people: "We are your ally."
Being anti-racist was "integral to our very being", he went on, adding that he would not accept being accused of anti-Semitism by "Tory hypocrites", criticising the government's "hostile environment" immigration policies and MEPs' "support" for the Hungarian government of Viktor Orban.
On foreign policy, Mr. Corbyn said evidence "now points clearly to the Russian state" as being responsible for the Salisbury poisoning and promised "no more reckless wars of intervention" like those in Iraq and Libya.
And he condemned the actions of Israeli forces in Gaza, calling for a "secure Israel and a viable and secure Palestinian state". Labour would recognize a Palestinian state as soon as it takes office, he said, "in order to help make that two-state settlement a reality".
Earlier in his speech, to applause in the arena, he attacked parts of the British press, saying billionaire newspapers owners did not like Labour "one little bit".
He called on supporters to challenge their "propaganda of privilege", using "the mass media of the 21st century" - social media.
Freedom of the press must be protected, he said: "But here, a free press has far too often meant the freedom to spread lies and half-truths, and to smear the powerless, not take on the powerful."
The CBI business group's director general Carolyn Fairbairn said there was "much common ground between business and Labour" but warned that "continual public barbs and backward-facing policy are deterring entrepreneurs and investors, at a time when we need them most".
Unite general secretary Len McCluskey said: "That speech was inspiring. We heard a Labour leader draw a very clear line under the failed policies of the past, policies that have caused despair and division in our communities, and then set out a distinctive, different, positive Labour program for the country."
The British Chambers of Commerce said there were some "bright spots" but "Jeremy Corbyn missed a golden opportunity to extend an olive branch to British business".