Spanish conciliatory message to Gibraltar from Spanish PM at UN Assembly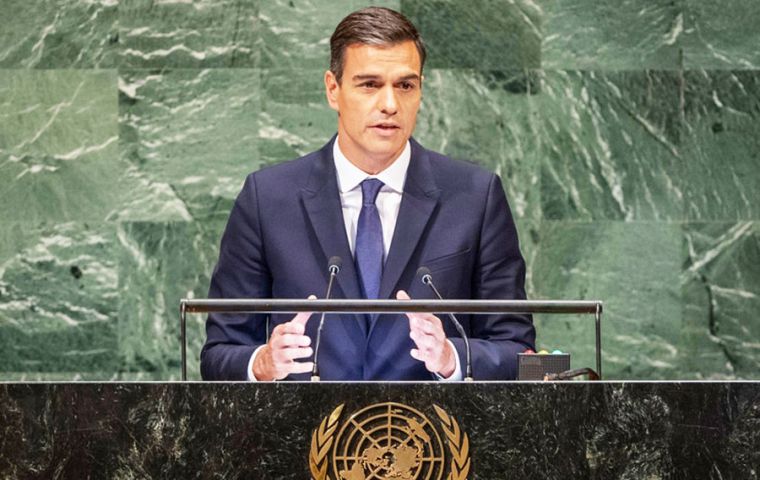 UK's post-Brexit relationship with the European Union can be one that creates "prosperity and benefits" for Gibraltar and the wider surrounding region, Spanish Prime Minister Pedro Sanchez told the United Nations General Assembly.
Speaking in New York, Mr. Sanchez delivered a lengthy, wide-ranging speech which focused primarily on key global challenges including security, climate change, migration and gender equality.
As is standard whenever a Spanish politician addresses the UN, he mentioned Gibraltar briefly toward the end of his speech. But where on previous occasions Spain has used unequivocal language to describe Gibraltar as an "anachronism" that breaks up Spanish territorial integrity, this year Mr. Sanchez avoided any explicit reference to sovereignty.
Instead, he skirted over the traditional Spanish position to focus on Brexit and his government's hopes for an agreement that would protect communities on both sides of the border.
Unlike previous statements from Spanish ministers, he also omitted any reference to the rejected joint sovereignty proposal tabled by Spain in the wake of the 2016 EU referendum.
"In respect of Gibraltar, the Spanish position is well known and is in line with UN doctrine and is well known by the United Nations' General Assembly," Mr. Sanchez said. "The United Kingdom's decision to leave the European Union entails too the withdrawal of Gibraltar from the European Union."
"My wish, as [Prime Minister of the] the Government of Spain, is that we make use of this historic situation so that the new relationship established between the United Kingdom and the European Union, and which inevitably has to go through Spain, creates prosperity and benefits for all of the region, the Gibraltarians and obviously the wider area of the Campo de Gibraltar."
The speech to the UN comes just days before a delegation from the Gibraltar Government is due to travel to New York to address the UN's Fourth Committee.
Gibraltar's Chief Minister Fabian Picardo is currently in Birmingham attending the Conservative Party conference.