US and Canada reach a NAFTA framework pudate; "we have a trilateral deal", sayd Mexican sources
Monday, October 1st 2018 - 08:42 UTC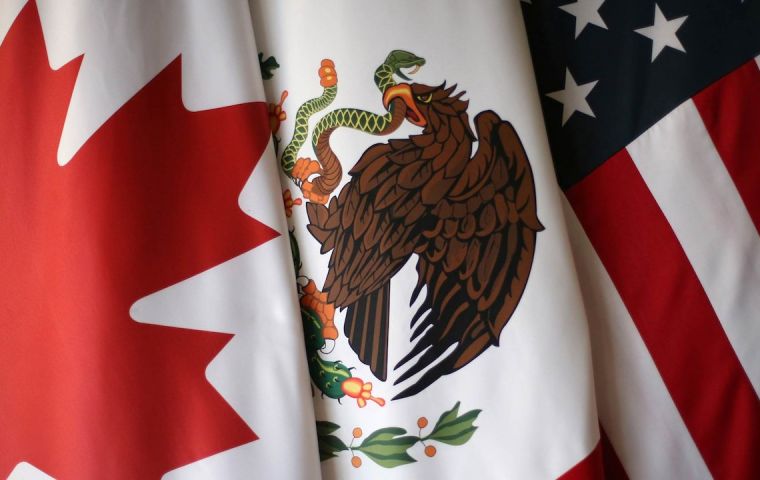 The US dollar slipped against the Canadian dollar on Monday as the United States and Canada reached a framework deal to update the North American Free Trade Agreement. The deal reached involves offering more dairy access to U.S. farmers as well as Canada agreeing to a side-letter arrangement effectively capping automobile exports to the United States.
A Mexican source close to the NAFTA talks separately said: "we have a trilateral deal."
The Canadian dollar rose about 0.7%, reaching a four-month high of C$1.2814 as the news about the framework agreement broke.
"Though markets were already anticipating an agreement, one source of worry will be swept away if a deal is made," Yukio Ishizuki, senior currency strategist at Daiwa Securities in Tokyo, said.
Mexico's Peso currency strengthened to a seven-week high versus the dollar, at one point gaining about 0.85% to 18.54 per dollar.
U.S. President Donald Trump's administration had said Canada must sign on to the text of the updated North American Free Trade Agreement before Monday local time or face exclusion from the pact. Washington has already reached a side deal with Mexico, the third NAFTA member.
The dollar index .DXY, which measures the greenback against a basket of six currencies, edged less than 0.1 percent higher to 95.197, not far off a more than two-week high of 95.366 reached on Friday.