Chile cannot be forced to negotiate a Bolivian sovereign access to the Pacific, says UN court
Tuesday, October 2nd 2018 - 07:48 UTC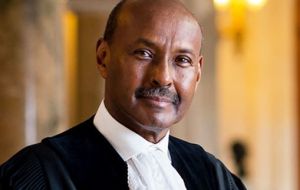 Landlocked Bolivia cannot force Chile to negotiate over granting it "sovereign access" to the Pacific Ocean, judges at the International Court of Justice ruled on Monday in a setback to Bolivian President Evo Morales. Bolivia surrendered most of its former coastline to Chile in a 1904 treaty following the War of the Pacific.
The Andean neighbors have held occasional talks about a possible corridor to the sea for Bolivia ever since, but judges said that did not create any obligation for Chile to actually negotiate one.
Morales attended the court session and told reporters outside the Peace Palace in The Hague, where the court is based, he would keep fighting for sea access.
Chile's president, Sebastian Piñera, celebrated with colleagues in the capital Santiago and told reporters that while Chile was always open to dialogue with its neighbors, Morales had created "false expectations" among his countrymen.
Reading the panel's 12-3 decision, Presiding Judge Abdulqawi Yusuf said that despite the countries' long history of talks, Chile had never bound itself to negotiations that would lead to a surrender of territory, as Bolivia had argued.
Accordingly "the court is unable to conclude ... that Chile has the obligation to negotiate with Bolivia in order to reach an agreement granting Bolivia full sovereign access to the Pacific Ocean."
Morales listened attentively during the ruling, taking notes as judges rejected all eight grounds advanced by Bolivian lawyers to support their claim. The ruling is a blow to the Bolivian president, who has bolstered his popularity with the nationalistic bid for sea access ahead of a bid for a controversial fourth term next year.
Speaking outside the court afterwards, he highlighted the court's suggestion that the countries continue negotiations out of "good neighborliness." "Bolivia will never allow itself to be kept from the sea," he said. "The Bolivian people and the people of the world know that through an invasion, sovereign access to the Pacific Ocean has been taken away."
Chile's President Piñera did not rule out further discussion, but said Morales' application to the ICJ had meant the two nations had lost "five years in healthy and necessary relations".
"The demand by Bolivia's government had no foundation, neither historical, political nor legal, and that is why it was categorically rejected," he said.
Chile currently allows Bolivia duty-free access to the port of Arica, near its northern border with Peru. Bolivia aspires to have a corridor including a train line and port under its own control, and Morales in 2012 halted discussions he saw as fruitless in favor of seeking a legal ruling to bolster his case.
The International Court of Justice, also known as the World Court, is the United Nations' venue for resolving disputes between nations.