Argentine Peso slips on Thursday on prospects of higher US interest rates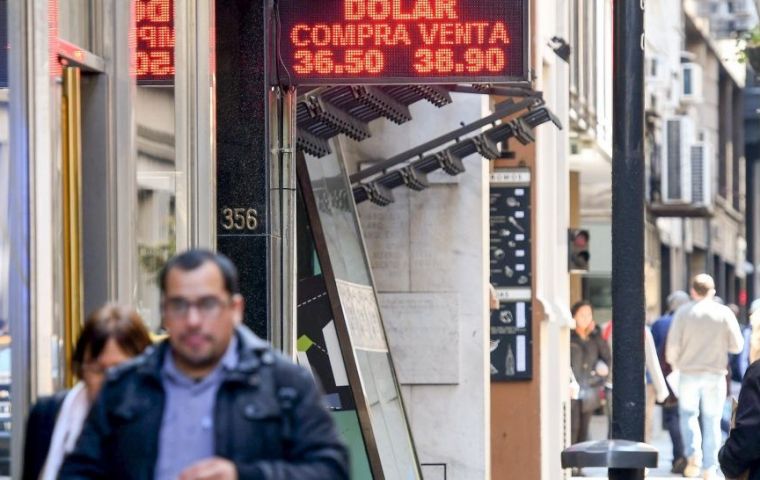 Argentina's Peso fell on Thursday, pressured by the recession-hit country's dismal inflation outlook and higher U.S. interest rates that have pushed capital away from riskier emerging markets and toward the greenback, local traders said. The peso shed 1.85% to close at 38.4 per dollar after having gained 9.58% over the previous three days under a freshly-renegotiated International Monetary Fund financing deal that calls for tougher fiscal and monetary policy measures.
Sales of high-interest, short-term debt instruments known as "Leliqs" by Argentina's central bank supported the local currency earlier this week by mopping up excess Peso liquidity that might otherwise go toward safe-haven U.S. dollars.
The Peso was nonetheless expected to weaken further in the months ahead. The IMF's solid show of support for Argentina is being countered by nagging skepticism among investors over the government's ability to tame consumer price increases and plug its budget deficit.
With inflation expected by the market to end 2018 at 44.8%, the currency is seen plummeting about 19% to 47 to the dollar over the next 12 months.
In the United States, Federal Reserve policymakers have signaled support for gradual interest rate hikes that would likely reroute investment from Argentina and other fragile emerging market economies. The Peso has already lost more than half its value against the dollar in 2018.
The newly-renegotiated US$ 57.1 billion IMF pact with Argentina showed solid IMF support for the free-market policies of President Mauricio Macri ahead of his 2019 re-election bid.
Argentina's central bank issued 97.71 billion pesos (US$ 2.53 billion) in seven-day Leliq notes, at a nose-bleeding interest rate of 72.83%, on Thursday. The bank says regular Leliq auctions are part of its anti-inflation plan.
The peso sell-off started in May, driven by doubts about the central bank's ability to roll over its burgeoning stock of another short-term debt instrument known as the "Lebac."
The run on the peso was sparked by jittery foreign investors who dumped Lebac notes in favor of dollar assets. The Argentine economy has since slipped into recession.
The Leliqs now being offered on a daily basis by the central bank are sold only to Argentine financial institutions regulated by government-imposed capital requirements that would block them from selling the notes all at once.