Tokyo's traditional Tsukiji fish market closes down this Saturday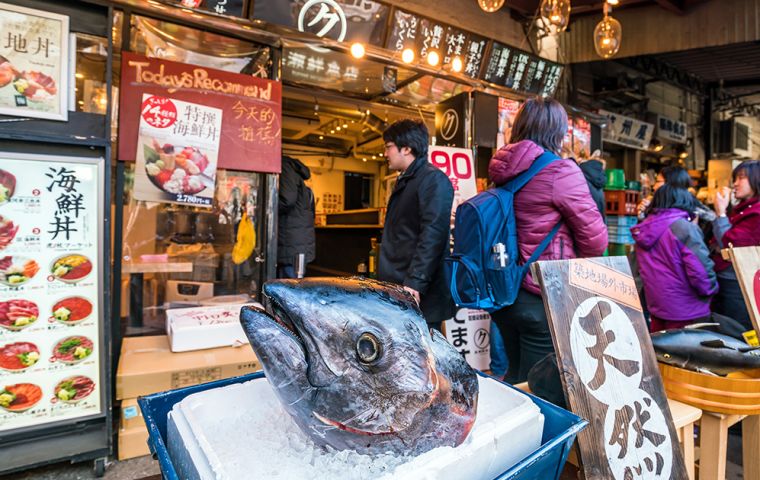 After years of delays Tokyo's 83-year-old Tsukiji fish market is closing on Saturday to move to a more modern facility on reclaimed industrial land in Tokyo Bay. The new, US$ 5 billion facility at Toyosu will open Oct. 11, over the objections of many working in Tsukiji who contend the new site is contaminated, inconvenient and unsafe.

"If the new place were better, I'll be happy to move," said Tai Yamaguchi, whose family has run fish wholesaler Hitoku Shoten since 1964.

The 75-year-old leader of a group of 30 women whose families run shops in Tsukiji opposed to the move, Yamaguchi feels it has been mishandled by authorities who failed to fully consult those affected. "They are hiding so much," she said.

Tsukiji now has more than 500 wholesalers employing several thousand people. About 40,000 people visit each day. Much of the angst over the move has to do with closing down a beloved local institution.

A labyrinth of quaint sushi stalls and shops selling knives and ice cream encircling the huge wholesale market famous for its predawn haggling over deep-frozen tuna and other harvests from the sea, Tsukiji has been supplying Tokyo's fancy restaurants and everyday supermarkets since 1935. Its origins date back nearly a century.

Opponents of the move fear tourists will be less likely to visit out-of-the-way Toyosu, which resembles a huge, modern factory and lacks the picturesque quality of Tsukiji.

Some of Tsukiji's sprawling shops will remain in their old locale surrounding the market site. But the wholesale market itself, which clears an average of US$ 14.5 million, worth of seafood a day, is leaving for good after a decade of controversy.

In the latest setback, Gov. Yuriko Koike postponed the move, which had been scheduled for November 2016, after an inspection found arsenic and other contaminants in the groundwater at Toyosu, a former gas plant.

"Safety has been ensured," Koike declared at a recent opening ceremony for the new market after extra concrete was poured and better water pumps installed. Even now, cracks stretching for several meters have appeared in the paving in Toyosu's loading area. City officials say they're not dangerous and will be fixed.

The long-term future for the Tsukiji site is still undecided. Spanning more than 230,000 square meters, or the equivalent of about 17 baseball fields, it first will be turned into a parking lot for the 2020 Tokyo Olympics.

Ideas for the long-term include an amusement park, a casino, a shopping mall — all of them and more. Its location in downtown Tokyo within walking distance from the glitzy Ginza shopping district makes for lucrative opportunities.