Bolsonaro clearly ahead for Sunday's vote in Brazil, leading with 40% intention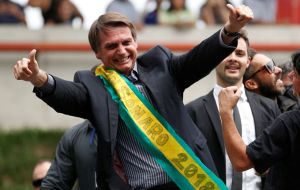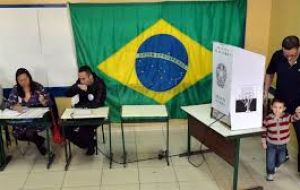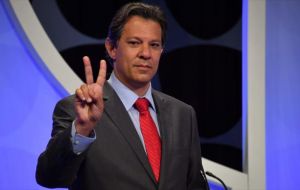 Pollster Datafolha released on Saturday evening its latest vote intention survey for Brazil's presidential election on Sunday 7 October, and it shows extreme right candidate Jair Bolsonaro leading with 40%, followed by Fernando Haddad from the Workers Party with 25% and Ciro Gomes, another left wing hopeful with 15%.
The percentages refer to valid cast votes, excluding blank, spoilt and annulled votes plus those interviews which declared themselves undecided.
The survey was contracted by Rede Glogo and Folha de Sao Paulo, and included 19.552 interviews done between Friday and Saturday, October 5/6. The margin of error is estimated in two percentage points, the level of confidence of the poll, 95%, and the survey has been registered with Brazil's Superior Electoral Tribunal, TSE.
The valid votes for the thirteen presidential candidates is as follows: Jair Bolsonaro (PSL): 40%; Fernando Haddad (PT): 25%; Ciro Gomes (PDT): 15%; Geraldo Alckmin (PSDB): 8%; Marina Silva (REDE): 3% and the rest are below 3%.
When it comes to total votes, which also considers blank, spoilt and annulled, plus those declared undecided, the percentages are as follows: Jair Bolsonaro (PSL): 36%; Fernando Haddad (PT): 22%; Ciro Gomes (PDT): 13%; Geraldo Alckmin (PSDB): 7%; Marina Silva (REDE): 3%, and the rest below 3%.
Blank, spoilt and annulled votes, 6% plus 4% undecided.
For the runoff, taking into account the two candidates with most votes if none gets a majority of 50% cast in the first round, the poll considered Bolsonaro and Haddad. And according to that scenario, Bolsonaro and Haddad are technically in a draw because of the margin of error. In effect the extreme right former Army captain figures with 45% and Haddad, 43%. Plus 10% blank votes and 2% who did not answer.
In the runoff scenario only Ciro Gomes would manage to defeat Bolsonaro, by 47% to 43%, with 8% blank and annulled votes and 2% not replying.
As to the candidates rejection index, ("which candidate would you never vote for?"), Jair Bolsonaro (PSL): 44%; Fernando Haddad (PT): 41%; Marina Silva (REDE): 31%; Geraldo Alckmin (PSDB): 24%; Ciro Gomes (PDT): 21%; Henrique Meirelles (MDB): 15%; Guilherme Boulos (PSOL): 15%; Cabo Daciolo (PATRI): 15%; Alvaro Dias (PODE): 15%; Eymael (DC): 14%; Vera (PSTU): 13%; João Amoêdo (NOVO): 12%; João Goulart Filho (PPL): 12%, and Doesn't know, 3% and 2% reject all candidates, would vote for none.
This Sunday 7 October, out of a population of 210 million, some 147 million Brazilians are registered to vote, which is mandatory for everyone between the ages of 18 and 70. Likewise an estimated half a million will also vote overseas, with the largest number of registered voters in the US, 160.000; Japan, 60.000 and Portugal, 39.000. The two overseas cities with most Brazilian registered voters are Boston, 35.000 and Miami, 34.000.
Brazilians will be electing a president, 27 governors, 54 senators, 513 Lower House members plus 1.059 legislative members at state level.