Double purpose rocket launch: Argentine satellite for farmers and recovering first stage
Monday, October 8th 2018 - 08:17 UTC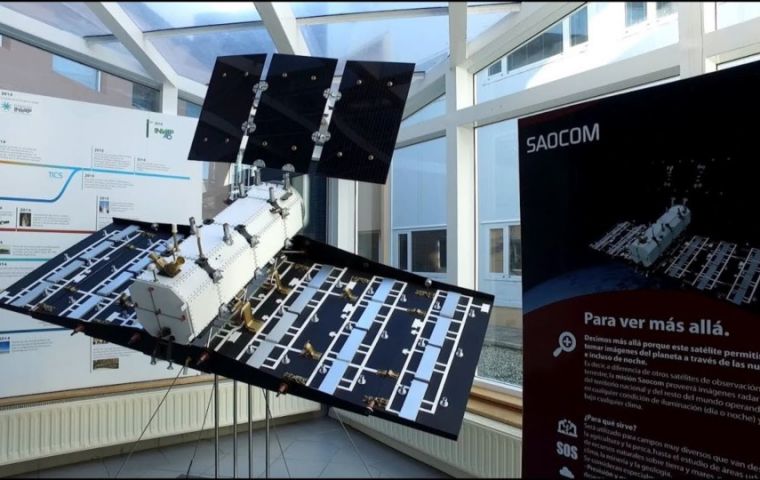 A SpaceX Falcon 9 rocket carrying an Argentine satellite has blasted off from California. The primary purpose of Sunday's mission is to place the SAOCOM 1A satellite into orbit, but SpaceX will also try for the first time to bring the Falcon's first stage back to a landing at the Vandenberg Air Force Base launch site.
The satellite, SAOCOM 1A will be operated by Argentina's space agency, CONAE, and use radar sensors to track soil moisture and other indicators that help farmers decide when to plan and irrigate crops, predict pestilence, and even predict natural disasters like floods.
To put the roughly 3,000 kilogram satellite into space, Elon Musk's team will re-use a Falcon 9 rocket booster that flew for the first time in July, 2018. It is one of the company's "Block 5" Falcon 9 rockets—the final evolution of the vehicle before the company's designers turn to a new rocket that may carry a billionaire tourist to the moon.
Realizing big dreams, however, requires executing the more prosaic business of flying satellites into orbit as cheaply as possible. That's why SpaceX developed the world's only operational reusable rocket, which lets the company offer deep discounts to its customers. There is still a ways to go before the company reaches the goal of flying the same rocket within 24 hours so far, the company's fastest turn-around is eleven weeks.
There will be some progress on that front: After this launch, engineers will attempt to land the booster on a landing pad near the launch site at Vandenberg Air Force base. This will be the first time the booster is returned directly to its west coast base rather than landing on an off-shore autonomous drone ship.
Returning the booster straight to the launch site means a faster turnaround for reuse; the vehicle won't need to be floated back to shore, loaded on a truck and carried to the launch site. But because the landing site at Vandenberg is just half a kilometer from the launch site and its expensive infrastructure, precision is a must.