Evo opens strategic plant in lithium industry process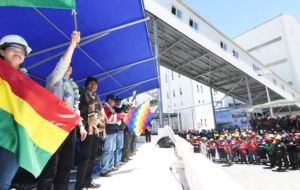 Bolivian President Evo Morales Sunday opened a potassium chloride industrial plant in Uyuni, department of Potosí, which is expected to have a yearly output of 350 thousand tons and is a part of the country's strategy for the industrialization of lithium.
"It is a pride for Bolivians, this plant is one hundred percent Bolivian," said Morales, who added it was a historical day for the industry.
The state-owned plant is a 188.1 million dollar investment to be recovered over the next five years, according to Bolivian government experts.
The potassium chloride that the plant will produce will favour the agricultural industry, since it will increase the yield of the crops, improve the fruits and generate resistance to diseases, it was announced.
Morales underlined that, with the new plant, Bolivia is ranked ninth in the potassium chloride industry in the world and third in South America.
"Bolivia is no longer a dwarf country, a beggar, we took important steps with industrialization and that will continue thanks to the Bolivian people, to their struggle," he said.
Bolivia has plans to open plants of lithium hydroxide, of cathodes and then of lithium batteries to fully pursue a state of higher industrialization.
Energy Minister Rafael Alarcón praised Morales for his vision to develop the Uyuni plant.
The first phase of lithium industrialization in Bolivia began in 2012, with the development of the technological process and the production of pilot fertilizer plants.
The second phase began in 2015 with the construction of industrial plants of potassium chloride and lithium carbonate for export.
The third phase is the production of lithium batteries with the alliance of ACI Systems, a strategic partner with which a minute of incorporation of the company was recently signed.