Press freedom in danger as British journalist expelled from Hong Kong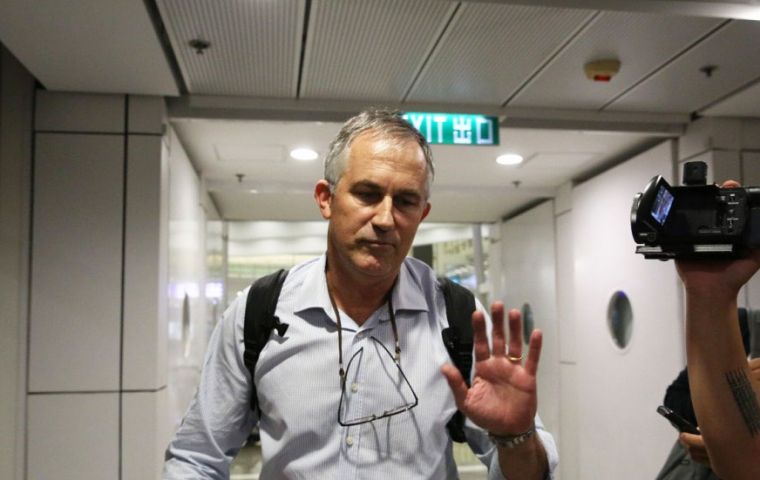 The expulsion of British journalist Victor Mallet from Hong Kong is regarded worldwide as "a chilling message about the steady erosion of basic rights in the semi autonomous Chinese city," according to the Financial Times.
Mallet, the FT's Asia news editor, was told his work visa would not be renewed and was given seven days to leave.
It would be the first such expulsion of a foreign journalist since Hong Kong, a former British colony, returned to Chinese control in 1997.
Journalist groups submitted Mobday a petition to the government demanding that it explains the measure.
Representatives from six groups – including the Hong Kong Journalists Association (HKJA) and the Foreign Correspondents' Club (FCC) – gathered at Admiralty's government headquarters to deliver the petition. HKJA Chairperson Chris Yeung said over 15,000 signatures had signed the online petition since it was launched on Saturday.
"Refusing a visa ... to a bona fide journalist working for one of the world's leading newspapers sets a terrible precedent for Hong Kong's reputation as a place where the rule of law applies and where freedom of speech is protected by law," the FCC -of which Mallet is first vice president- posted on its Twitter account.
Although a British national, who would normally be allowed to stay in the territory for up to six months under a tourist visa, Mallet returned to Hong Kong after an international trip on Sunday and was allowed to enter on a seven-day visitor visa.
"Immigration officials did not provide an explanation for the shortened visitor visa, and we continue to seek clarification from the Hong Kong authorities about the rejection of his work visa renewal," the Financial Times said in a statement.
Mallet angered authorities in Beijing and Hong Kong by hosting a speech at the city's press club by Andy Chan, the leader of a tiny pro-independence political party.
Chan's party has since been banned as Beijing cracks down on any pro-independence sentiment in the semi-autonomous city.
In a strident speech in August at the city's FCC, independence activist Chan attacked China as an empire trying to "annex" and "destroy" Hong Kong. The government said in July that it planned to ban the tiny organization, the Hong Kong National Party, under a colonial-era law that allows the prohibition of groups out of national security, public safety or public order concerns.
China's foreign ministry had asked the club to pull the talk, but the FCC refused, arguing that all sides of a debate should be heard and that it hosted a variety of speakers, including Chinese officials.
Hong Kong has traditionally been a haven for journalists, from when international news media outlets were forced from mainland China after the Communist Party's takeover in 1949 to recent years, when Beijing has kicked out journalists over coverage of delicate topics within China.
"Hong Kong was, ironically, the place foreign journalists expelled from China would usually end up," said Keith Richburg, director of the Journalism and Media Studies Center of The University of Hong Kong and a former longtime foreign correspondent for The Washington Post.
The expulsion "sends a chilling message to everyone in Hong Kong, highlighting Beijing's tightening grip on the territory and the steady erosion of basic rights that are guaranteed in Hong Kong's laws and international agreements," the FT's editorial said.
The British government said it was "concerned" about the rejection of Mr. Mallet's visa renewal. "We have asked the Hong Kong government for an urgent explanation," the Foreign and Commonwealth Office said in a statement. "Hong Kong's high degree of autonomy and its press freedoms are central to its way of life, and must be fully respected."
Tam Yiu-chung, Hong Kong's representative on the standing committee of China's National People's Congress, said Monday on a radio show that the expulsion would not affect media freedom in Hong Kong, and warned that those who raise the issue of Hong Kong independence do so "at their own risk," the Hong Kong broadcaster RTHK reported.
The Communist Party-owned newspaper Global Times said that the expulsion, if it was related to the talk, was a sign that the event was a "political provocation that goes far beyond the scope of freedom of speech."
China's Foreign Ministry office in Hong Kong said Saturday that visa questions "fall within a country's sovereignty" and that the central government firmly supports the Hong Kong government "in handling the related matters in accordance with law."
"It is indisputable that the Hong Kong government exercises its legitimate rights in accordance with China's own laws, whether it be national laws, or basic laws of the HKSAR," Chinese foreign ministry spokesman Lu Kang said at a regular press briefing Monday.