Salisbury poisoning: second Russian involved is allegedly a military intelligence doctor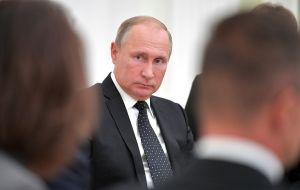 The name of the second suspect in the Salisbury case is actually Alexander Mishkin, the BBC understands. The Bellingcat investigative website says the man who travelled under the alias Alexander Petrov is in reality a military doctor working for Russian intelligence, the GRU.
Last month, Bellingcat named the first suspect as Anatoliy Chepiga, a claim rejected by Russia. More details about how it uncovered the identity will be released on Tuesday. Russian ex-spy Sergei Skripal and his daughter Yulia were poisoned in March.
The British open source website said it had identified the suspect using testimonies from people the suspect knew and a scanned copy of his passport. It said both his real passport and the false passport he travelled to the UK on in the name of Alexander Petrov carried the same date of birth.
Bellingcat claims he was recruited by Russian intelligence while he was completing his medical studies, and made several trips to Ukraine, including during the 2013 unrest. It took longer for investigators at the Bellingcat website to identify Alexander Mishkin as he has an even sparser digital footprint than the first man to be named, Anatoly Chepiga.
But using databases and passport details they concluded that this was the real name of the man who came to Salisbury as Alexander Petrov. Facial recognition experts were asked to examine two photos 15 years apart and use techniques of simulated age progression to establish the match.
Mishkin's identification will raise more questions about how easy it has been to expose supposedly undercover intelligence officers and undermine Russia's official account that the two men who came to Salisbury were there to see the Cathedral spire.
Recent reports in the Russian media suggest that Vladimir Putin - himself a former spy chief - is unhappy with the GRU's performance - and that a purge could be on the way.
A spokesman for the Home Office said it would not comment as it was a police investigation. A spokesperson for London's Metropolitan Police said it would not comment on the "speculation".
Conservative MP Bob Seely, a member of the Commons Foreign Affairs Committee said: "It is appalling that a medical doctor appears to have been part of a team of GRU operatives...
"Whilst this operation has been a botched embarrassment for the Kremlin from beginning to end, it's worth remembering that we may not know about the GRU's successful operations."
Following the attempted poisoning in Salisbury, UK investigators said one of the two suspects had been travelling under the name Ruslan Boshirov. In September, Bellingcat revealed he was actually an military intelligence officer named Colonel Anatoliy Chepiga.
He served in Chechnya and Ukraine and was made a "Hero of the Russian Federation" in 2014, the website said.